Homeschool Art for the "Art Klutz"
Art Klutz's of the world, unite!
Art was a weak area in my homeschool.  It was one subject that we all had to work at, or it wouldn't get done.   If we didn't set aside time for art study it would never happen!   It may sound strange to some, but we never had that problem getting math or science done.  I know for certain that art is my nemesis.  It's messy.  It's subjective.  There are no right or wrong answers in art.  I'm definitely someone who likes to be INSIDE the box rather than OUTSIDE.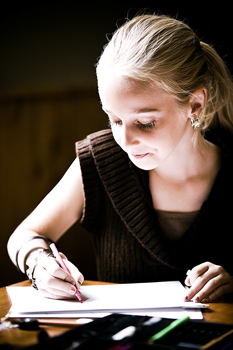 Read my article called Art for the Art Klutz
The article was originally published in
Heart of the Matter Magazine, September 2010 edition
.

Get our new FREE training webinar, "Grades and Credits and Transcripts, Oh My!!"