Can I Give High School Credit for Bible Study?
We do Bible as a family everyday. I would guess we spend about 45 minutes a day. Sometimes we simply read the Word and discuss, other times we do a formal study. Plus there is the daily discipleship...Sundays at church, youth group studies, etc... May I give a Bible credit per year to my son, or must he have actually done a formal Bible study with documented work done in a portfolio? Any wisdom? Thanks for any help/thoughts. I'm beginning to feel  as though I'm stumbling towards the finish line, rather than sprinting. It's all about doubting myself at this point...
~Yvonne on Facebook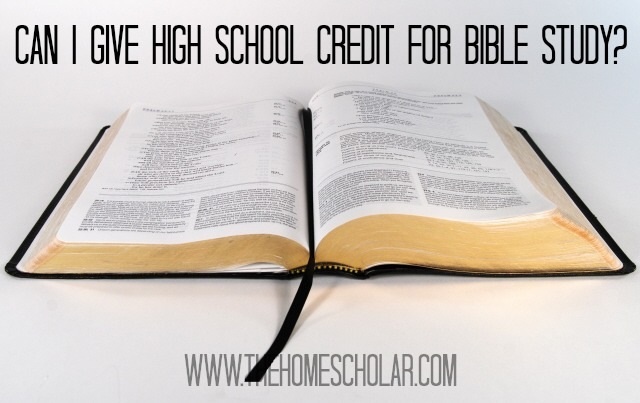 I gave my kids 1/2 credit per year for Bible Study. You can see how it looks on our own homemade
transcript
. If it were me (hey, it WAS me!) I WOULD put it on the transcript. Because of the amount of time, you could even count it as 1 full credit per year.
You don't have to use a textbook for Bible anymore than you would use a textbook for PE or a music class like piano. In this case, you just count hours, not textbooks. It's still an accurate and legitimate way to calculate credit value.
Some colleges may like to see a course description of it, but it depends on the college. Some secular colleges won't consider a Bible class in their GPA, but some Christian colleges will want to see Bible classes so they know kids are prepared.
Your job is to make a transcript that is honest and true. This Bible class was truly part of your homeschool, so I say give him the credit.
Do you include Bible study in your homeschool? Please share!