Watch the Presidential Debates with your teen - and other political debates in your area.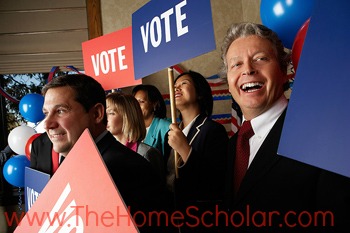 I'll be the first to admit I find them boring, and will "sometimes" fall asleep while watching them, but you are at the prime age to teach your children what is really important!  You can watch the debate, have them take notes on it, and then discuss it in the context of your values.  Kids don't just "catch" values, you have to talk about them in the context of your daily life - and tonight is prime-time in your daily life.
Watching the debate can tell them it's important to listen and evaluate candidates EVEN when it's boring and they fall asleep.  This is how we will have educated voters in the future!  So if possible, watch the debate if you can - and record it if you can't, so you can watch it later.
Did you see my earlier blog post? Read: 
Time to Have "The Talk"
. This is the sort of thing I was talking about!  Now is the time to discuss difficult, adult issues, the pros and cons, both sides of the story and how you make your decision.

See those cute buttons at the bottom of these blog posts?  Those are to make it easy for you to share these helpful posts with your friends who might need encouragement.  Go ahead and give it a try.  I promise that nothing will blow up!