It's always great when someone says something nice about you, isn't it?!  I was thrilled when Homeschool.com recently named
The HomeScholar
 website as one of their 
Top 100 Educational Websites for 2013
!  What an honor!  I even get to use their Top 100 Seal on my blog!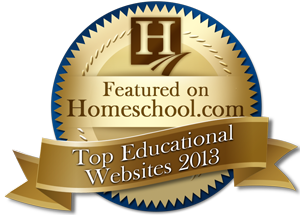 Homeschool.com is having a February Freebie event, and I have contributed some prizes and giveaways.  Why don't you check it out? 
Freebie February Deals
Every year, Homeschool.com asks their product testers to send them a list of their favorite educational websites, which they then research and rank, and this year, 
The HomeScholar
 was included in their High School list.  It's great to know that so many people find our website so helpful, because 
that's my
mission
: helping parents homeschool through high school.
If there's anything I can do to help YOU in your homeschool, I'm HERE!  Check out my free 
webinars, ebooks, newsletters
, and other resources, all available to help support you in your homeschooling.

Are you curious about The HomeScholar? Find out more
here
!