Right now is the time.  No more putting it off.  Call the local high school (public or private) and ask them how to register your homeschooled student for the PSAT.  The test is in October, but you need to register as soon as possible.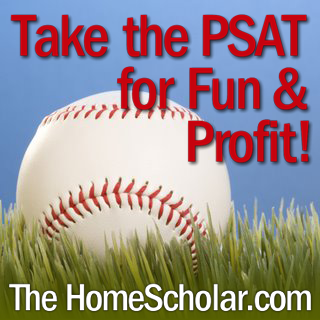 The PSAT in 10th grade is "for fun."  It's an opportunity for sophomores to try the PSAT for the first time, when it really don't matter for anything.
The PSAT in 11th grade is "for profit" because the junior year PSAT is the only year it counts for the National Merit Scholarship.  If you have a particularly smart 11th grader, they may score high enough to get the National Merit Scholarship.  Otherwise, the PSAT is just great practice for the SAT in the spring.  Either way, it's a great opportunity. It can estimate your score on the SAT, and help you figure out which colleges might be a good fit in the future.
I don't usually recommend the PSAT in 9th grade.  At that age, most kids don't have the amount of math they need to score well.  Since they can't do well, I worry that kids will develop a test phobia, from being forced to take a test they when they are expected to do poorly.  Unless kids have completed geometry, taking the test in 9th grade may do more harm than good.
If you want to learn more about the PSAT, this article will help: 
Take the PSAT for Fun and Profit