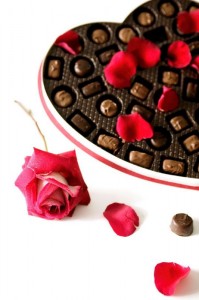 I hope you had a Happy Valentine's Day!  Here is my heart-shaped sweet for you - Freebies from the 
Institute for Excellence in Writing
!  IEW has a wonderful online catalog, called a Magalog.  This year, if you sign up for their 2012 Magalog before February 14th,  you get some GREAT freebies!  This is pretty cool stuff, and I just HAD to share it!
Request a 2012 Magalog and receive four free downloads HERE.
These are the four great downloads you can get.


Four Deadly Errors of Teaching Writing Audio Download


Nurturing Competent Communicators Audio Download


Reaching the Reluctant Writer Audio Download


IEW's Recommended Read-Aloud List


The 2012 Magalogs should arrive in your mail box by early March.  By then you should be all done with your freebies!  I love Andrew Pudewa's common-sense, low-stress encouragement in English.  Here is the description of each of these free classes.
Four Deadly Errors of Teaching Writing Audio Download
We've all suffered it at one time or another: Frustration about writing assignments. Either on the receiving end, or perhaps now on the giving end, there can be a few distinctly discouraging aspects to teaching and being taught writing. The tough questions include: What to correct and how to give a grade? How much help is too much? Isn't the assignment clear enough? Why don't students find their own errors? Learn and avoid four teaching mistakes that contribute to this frustration: Overcorrecting, Holding Back Help, Unclear Assignments, & Over-Expectation. Play time: 65 minutes.  You may also download the article The Four Deadly Errors of Teaching Writing.
Nurturing Competent Communicators Audio Download
Many parents think that good readers will naturally become good writers. Others think that writing talent is just that—a natural ability — some have it, others don't. Both are myths. History and modern research show very clearly how good writers develop, and demonstrate the two most critical things needed for a high level of aptitude in writing. With humor and insight, Andrew will share the two easy but unbelievably powerful things you can do to build language patterns and nurture competent communicators in your family.  Play time: 76 minutes
Reaching the Reluctant Writer Audio Download
Many children do not like to write. Why? This workshop will answer that basic question and teach a specific and successful method of separating the complex process of writing into the smallest possible steps, making it possible for even the most reluctant writer to produce short but complete compositions. He will be proud and motivated to write again. If you remove the problem of what to write you will be free to help your child learn how to write, using source texts, key word outlines and "dress-up" checklists. Results guaranteed! Play time: 75 minutes
You will also have a IEW Reading List added to your downloads.