Dave Ramsey's Foundations in Personal Finance for Homeschool - Review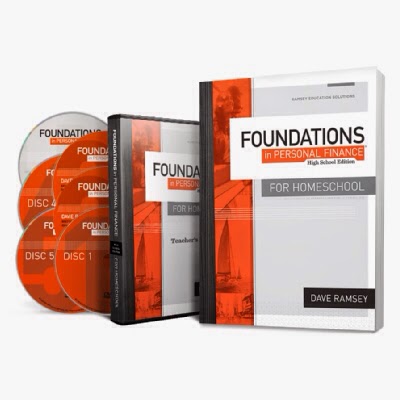 Did you learn how to take care of your own, personal finances when you were in high school? One of the many benefits of homeschooling is having the time to cover life skills in your homeschool, skills your children will need for the rest of their lives! Many homeschoolers turn to Dave Ramsey to help them teach their kids how to handle their finances once they've left the nest.
I love Dave Ramsey's products! Dave Ramsey asked me to do a review for his brand new program, Foundations in Personal Finance for Homeschool. My good friend, Renita, was kind enough to review a copy on my behalf. Here's what she had to say:
I received Foundations in Personal Finance for Homeschool by Dave Ramsey to review. I was thrilled and couldn't wait to start on it. I mean who doesn't want to do finances and math, right?!

Seriously though, if I had had this course in high school I might not have had the problems with money that I did. This course is a practical approach to personal finances that is interesting and enjoyable for students.
And it's even a FUN curriculum!
The DVDs are engaging and the material delivered in a way that is fun. The lessons are around 15 minutes each but you will want to watch more than just the one. Really. I didn't expect to have fun while learning about finances. That just doesn't even seem possible but Dave Ramsey and his team have come up with a way to do it.
Renita also says:
I can't recommend Foundations in Personal Finance for Homeschool enough. Every student NEEDS to go through this course to help them avoid the pitfalls that come from not understanding how to make their money work for them.
Foundations in Personal Finance for Homeschool would make a great half credit course in personal finance for homeschoolers! You can also get further ideas for promoting financial skills in your homeschool and more in
Beyond Academics: Preparation for College and for Life
.
Have you always been curious about what Dave Ramsey's homeschool programs are like? You can read more about what Renita thought about this Dave Ramsey program once she tried it out in her own homeschool and why she recommends it so highly by reading the full review on her blog,
Homedaze
.
Did you learn how to handle your finances back in high school? Are you making it a priority to teach your kids? If you've used Dave Ramsey's programs in your homeschool, let other homeschoolers know how you liked them in the comments!