October 2017
By Lee Binz
The HomeScholar
You've done a great job educating your child. They are bright, intelligent, well socialized, and have an area of passionate interest. All the required classes are under their belt, with great grades, excellent test scores, and wonderful letters of recommendation. You have kept complete and accurate homeschool records. Great preparation means a college interview or scholarship competition may be the next step.
Great news! Learning how to interview is important for all adults, whether they go to college or not. Spend some time during junior and senior year discussing interview skills while your child visits and interacts with colleges.
Whether a college requires a 30-minute interview for admission, or an 8-hour competition for scholarships, how do you prepare your child for something like this?
Do the Ground Work
During an on-site scholarship competition, colleges are looking for students with great social skills. Does the student look them in the eye and have a firm handshake? Can they talk with anyone of any age? Are they polite, yet confident? One of the reasons homeschoolers do so well in these competitions is because they often have these skills! So, relax—most of your preparation for the competition has already been done!
Schools are looking for someone who's warm and friendly. They understand kids will sound like kids and not like adults. At the same time, they are trying to decide if "the lights are on" inside. For example, if they mention a current cultural issue, can the student give an educated opinion?
Colleges are looking for an investment. They want to give money to someone who is going to improve the college's bottom line. This means they are looking for a student who will stay at their college for all four years and graduate with a good GPA. They want students who will succeed in graduate school or career in the future, are involved on campus, and are leaders among their peers.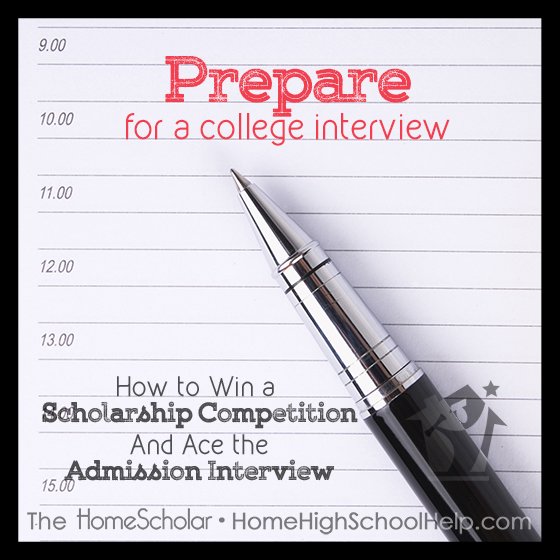 Homeschoolers do have an advantage. We have a curriculum advantage, with the ability to choose appropriate curriculum to educate our children. We have the testing advantage, by allowing our children to take tests that highlight their academic strengths. We have the comprehensive record advantage, by providing explanations of what we taught. And we have the character advantage, because we have time to shape and mold our children's character and behavior every day.
These are great advantages. But when it's time for your children to interview or compete for scholarships, knowing you have the advantage isn't enough. This is when you need lists!
Plan Ahead
As in a job interview, colleges will likely ask your child, "Tell me something about yourself?" For this reason, it is a good idea to brainstorm some possible answers with your student beforehand. Colleges may ask specific questions about a student's area of specialization. Think for a moment about possible topics and stories your student could mention. Help your child also think of questions they could ask the college about their major, or the on campus living situation. Bring anything they ask you to. Take along music if your child is performing. Bring a portfolio if the art school asks for it. Read every bit of material they send, looking for a list of things to bring.
Prepare for a College Interview
Here's a list of important questions and ideas for your student to review before the interview:
12 Ways to Prepare Yourself
Accept the offer to interview as soon as possible.
Review your comprehensive homeschool records together with your parent.
Think about what questions you want to ask the college.
Make a list of things you want to be sure to say about yourself.
Review the essay you submitted with your application.
Consider any special situation or transcript grade you need to explain.
Be ready to describe ways you can make the college stronger:
Stay on campus.
Graduate in 4 years.
Earn a good GPA.
Be active on campus.
Have goals for after college.
13 Practice Questions
Why are you interested in this college?
What will you contribute to our college community?
What high school courses have you enjoyed the most?
What is the most important thing you've learned in high school?
How do you define "success"?
What are your strengths? Weaknesses?
What activities do you enjoy the most?
How would you describe your biggest achievement?
What is the hardest thing you have ever done?
What is your opinion on (current event)?
If you could talk to one person (living or dead) who would it be and why?
How do you spend your summer?
What do you expect to be doing 5 years from now?
6 Helpful Be-Attitudes
Be genuine—who you are, not pretending to be someone else, or stretching the truth.
Be engaged—pay attention to the person speaking to you.
Be assertive—everyone is in the same boat, so demonstrate confidence.
Be interested—ask questions about the college, programs, and activities.
Be polite—dress conservatively and speak politely to everyone while on campus.
Be thankful—write a thank you note, and send by email and snail mail.
14 "Don't Do" Tips
Don't look at the clock.
Don't look at your phone—turn it completely off and leave it off.
Don't be late.
Don't be arrogant or boast.
Don't lie, because they can figure it out.
Don't respond with only yes or no answers.
Don't tell the school they are not your first choice.
Don't memorize a prepared speech.
Don't ask questions covered by the college catalog.
Don't chew gum.
Don't wear lots of cologne or perfume.
Don't swear or use too much slang.
Don't be rude to the receptionist or staff.
Don't bring a parent into the interview.
Relax and Breathe Deeply.
You have been well prepared for this moment. Think about a few ideas you can use for the general "who are you" questions. Think of it not as a competition so much as an opportunity to meet some great new friends and share your opinions on a wide range of topics. You can do this! Just let your light shine and have fun!
What is a Scholarship Competition Like?
My students experienced this process when they went to an all-day competition for a full-tuition scholarship at Seattle Pacific University. SPU invited 108 students, and 10 were chosen. Two of the kids selected that day were homeschoolers—and both were my children! Boy, did we have a party that day!
When my children were invited to the competition, they were asked to bring something that represented them. My younger son brought a charcoal drawing he had made of the French Economist, Jean Baptiste Say. My older son brought a chess demonstration board that he used to teach chess in inner city classrooms.
Every applicant displayed fabulous academics, with great test scores, and an interesting passion. All were able to talk intelligently. There were some "Survivor" moments, when students would try to out-answer, out-talk, and out-volunteer others. My younger son was surprised that other kids spoke up more than he did!
I remember when they came home from the competition. "I don't know if I won, but I had a great time! All the kids were so nice!" They loved getting to know new people - really smart kids with many interests. They met kids who talked about interesting things all day, and had a blast!
Ultimately, we learned that our students weren't chosen solely on their performance that day. They were also chosen for intangible reasons. How did they interact with other students? How did they handle the competitiveness? How did they behave when they thought nobody was looking?
Selection boiled down to socialization and character. Talk about a homeschooling advantage! Ultimately, I think they won because of how much fun they had. They went in with the right attitude and their authenticity and enthusiasm were apparent to all. Even my "quiet" son did well, thus proving it's not as much about being outgoing as it is about being genuine.
Karla's Scholarship Competition Experience
Karla did a wonderful job of preparing her son for a scholarship competition, and has some fabulous advice!
Lee, I wanted to share my son's scholarship interview and experience, but it was too long to put as a Facebook post. I hope you don't mind hearing the longer version! My son, Jeremy, has been accepted at George Fox for the fall and plans to go into the electrical/computer engineering program. His SAT scores were such that he has already received the $10,000 scholarship. In addition he was invited to their scholarship competition in February.

On the way to the college his dad and I spent a fair amount of time discussing what we thought they might ask in an interview: 'Tell us about yourself, what are your strengths/weaknesses, what are your goals?' etc. Several ideas came straight from your post about these interviews.

After the interview, I grilled him on what he had been asked. He said they asked about steward leadership, which was the topic of the application essay. Then the professor asked, 'I see that your GPA was 3.97. Why wasn't it a 4.0?' Boy, we hadn't anticipated that one! So, Jeremy replied that it was his freshman biology class, explaining that he and biology just didn't get along. Then the professor said, in an amused voice, 'Wait, it says you are homeschooled! Your mama gave you a B!!??' Jeremy said, 'Well, yes, I guess I deserved it.' And the professor added, 'We homeschool, too, and we did that to our son once.'

We were quite amused by that, but secretly I was wondering if that lower grade would be a detriment since all the others probably had 4.0s, or if that would work in his favor since it showed he and his mom are honest.

Last week he got an email with the results of the competition. Guess what—he won! He will receive, in addition to the SAT scholarship, a scholarship for engineering, the highest for this competition. He also won a vocal scholarship as a non-music major.

There's our story. Thought you might enjoy it, especially the comment about 'mama giving a B.' Have a great day—and thanks for listening! ~ Karla in Washington
What a great story! It points out how human and humorous an admissions person can be. Karla's story has some great advice. Plan ahead for interviews. Practice questions with your child. Don't give up hope!
Write a Formal Thank You Note
If there was ever an instance that called for a heartfelt thank you note, it is after a scholarship competition. Have your child say thanks by email and postal service. Be sure to include specific details about their visit.
Below is an example of a genuine, heart-felt thank you note. Notice the specific compliments to the university, the professor of the class attended, the interviewer, and to the other students.
Dear Mike,

Thank you so much for both the scholarship competition and our interview on Monday. The competition in general was exceptionally well-organized for the candidates. The group discussion was excellent, fast-paced and quite insightful. I also thoroughly enjoyed my visit at the "Capstone: Political Economy" class, taught by Lisa Surdyk. It was fascinating to listen and participate as the class worked their way through current political issues using economic principles.

I also wanted to thank you for our interview and time together. You may not realize it, but the questions you asked, and even the visual feedback, really helped as I was formulating my thoughts. This was my first experience in an interview where I was able to talk about my motivation—not just what I'm passionate about, but also why. The beauty in fine arts is generally understood, but I am equally fascinated by the aesthetic of society and nature. I want to thank you for asking great questions.

Good luck in choosing the finalists from the exceptional candidates I met yesterday; you have quite a job ahead of you!

Sincerely,

Alex
Be sure your child thanks the college for the interview or scholarship opportunity. Decisions may not be made for weeks, so this is their last opportunity to leave a positive impression. A thank you note provides a wonderful conclusion to a great opportunity.
How to Win a Scholarship Competition
(And Ace the Admission Interview)
(Click it to Pin it!)
To share this infographic, grab the embed code below!
Preparation can help your child ace the admission interview or campus visit. Best wishes to all homeschoolers in their scholarship competitions!
Copyright © 2017 The HomeScholar LLC, www.HomeHighSchoolHelp.com. Text may be reprinted without permission if used in full, except for use in a book or other publication for rent or for sale. Reprint must include this copyright, bio (below), and the original URL link (https://homehighschoolhelp.com/how-to-win-a-scholarship-competition-and-ace-the-admission-interview).
Lee Binz, The HomeScholar, specializes in helping parents homeschool high school . Get Lee's FREE Resource Guide "The 5 Biggest Mistakes Parents Make Homeschooling High School" and more freebies at www.HomeHighSchoolHelp.com/freebies.
Recommended Resources

"Super Scholarships for Humble Homeschoolers"
Free Class!

You can afford college! How? I want to show you how to earn BIG merit based scholarships you thought were reserved for the uber-intelligent or Olympic-level athletes. These scholarships are available for homeschoolers, even kids that are academically or athletically dis-inclined. In fact, one of the best ways to position your kids for these scholarships is by leveraging the educational benefits available EXCLUSIVELY to homeschoolers.

In this class you'll learn why merit scholarships provide the most money. I'll teach you which college admission test is best, the SAT or ACT, and why. I'll show you how to make SURE your child will stand out above the crowd, regardless of their gifts or challenges. You'll learn how to find a college that gives great scholarships, and the secrets to creating homeschool records that will reduce college costs.

---

The HomeScholar Guide to College Admission and Scholarships: Homeschool Secrets to Getting Ready, Getting In and Getting Paid
[Paperback or Kindle Edition]

There's nothing more stressful to parents than college admission and scholarships. Many parents question whether it's even possible to find a college that is satisfying to both parent and child, a college that will love their student and offer them scholarships to attend. The HomeScholar Guide to College Admission and Scholarships puts these concerns soundly to rest. Author Lee Binz shares the principles she followed to help her own students achieve admission and full tuition scholarships to their first-choice universities.

---

The Comprehensive Record Solution

College admission is extremely competitive! Comprehensive records will set your student apart. The Comprehensive Record Solution is geared for parents who know they need to do more than "just a transcript." It will enable you to create the transcript, but the focus is directed at much more, such as course descriptions, reading list, activities and award list, and work samples---all the elements that go into a "comprehensive" record.

With The Comprehensive Record Solution, you will be able to create high school records that win college admission and scholarships, with step-by-step training, cut-and-paste simplicity, and four document reviews with Lee - so you will know your records are done right!
Save
Save
Save
Save
August 2017
By Lee Binz
The HomeScholar
You may think the toddler age is the busiest stage of life you'll ever experience, but it's not true. The busy season builds again during high school, culminating in the maniacal rush through college admission. The maximum busy season is senior year of high school when the consequences are financial and huge.
The crazy busy life can be avoided. And you can begin immediately by instituting calming policies right away. You simply need to know how to avoid that crazy busy life you see around you. Here are seven easy steps to help.
1. Assess the Problem
Not everyone is crazy busy. How do you know when it's happening to you? It's readily apparent if your standard reply to "How are you?" is "I'm crazy busy!" What does it mean, though? It means you are working past dark almost every day or traveling to activities almost every evening. It's when you have no time to cook dinner, pick up the mess, or make sure beds are made. It feels like your heart is racing and you lose track of the important things. It's when you only see the urgent thing in front of your nose, and the important things are completely squeezed out of the picture. You and your family say things such as, "I'm overwhelmed" or "I'm just so tired all the time." Younger ones cry or fight more than usual. Home educators say, "We are behind" and "We can't possibly catch up." The consensus is, "This is way too intense!" You are crazy busy when you have so many activities your children can't complete core classes. When you are too busy with other activities to finish English, math, social studies, science, and foreign language, then something is out of balance.
2. Recognize Your Goal
As a parent, you don't want to teach your child to be crazy busy. You want them to grow up and have a balanced life. Once they're an adult, you want them to be at home with their family for dinner, and to care for their children and their home. You can't merely hope to have an adult child with a balanced life, you have to model it and teach it.
Your goal is to teach your child to have a balanced life. You must teach your child how to say no. They will even have to say "No" to some great opportunities in order to have a peace filled life. You have to teach them not to lose track of the important things. This is a life skill, like learning to drive or do laundry.
3. Meditate on Scripture
People think parenting babies and toddlers is the hardest time of life. I know I did - I had one HARD baby with Alex! But now I see that homeschooling high school is even busier. Crazy-busy parents have a hard time being self-controlled, pure, or kind, and it's hard to be obedient to the Word of God in the midst of chaos.
Christian women are usually of two camps. Either they are a balanced "Mary" or they are a completely overwhelmed "Martha," complaining about their busy life.
"Mary, who sat at the Lord's feet listening to what he said. But Martha was distracted by all the preparations that had to be made ... 'Martha, Martha,' the Lord answered, 'you are worried and upset about many things, but few things are needed—or indeed only one. Mary has chosen what is better, and it will not be taken away from her.'" Luke 10:38-42.
Jesus points out that Mary chose the better way.
Christian women look to the example of the Proverbs 31 woman, forgetting this is the culmination of a lifetime of accomplishment, rather than a week in the life of a human being. Spend some time meditating on scriptures about rest.
Spend time with God. "Come to me, all you who are weary and burdened, and I will give you rest." Matthew 11:28
Recognize how the Scriptures emphasize rest. "There are six days when you may work, but the seventh day is a day of Sabbath rest, a day of sacred assembly. You are not to do any work." Leviticus 23
There are consequences if we don't rest, and He will make us lie down. When I was working as a nurse, I saw the result of over-scheduling often; it's well documented. "The Lord is my shepherd, I lack nothing. He makes me lie down in green pastures, he leads me beside quiet waters, he refreshes my soul." Psalm 23:1-3
It's true we should work. It says so in the Old Testament, "The Lord God took the man and put him in the Garden of Eden to work it and take care of it." Genesis 2:15. And it says so in the New Testament, "Jesus said to them, 'My Father is always at his work to this very day, and I too am working.'" John 5:17
And we often work so hard for a good reason – it's fulfilling! It says so in the Old Testament, "A sluggard's appetite is never filled, but the desires of the diligent are fully satisfied." Proverbs 13:4. And it's explained again in the New Testament, "Whatever you do, work at it with all your heart, as working for the Lord, not for human masters." Colossians 3:23.
But we are called to alternate rest and work. Even farmland is to alternate rest and work, as it talks about the "Sabbath Year" in Leviticus 25:4-7. We are called to rest. The Lord instructs us to plan ahead to rest. It's not optional.
We are called to be busy AT HOME, not busy for the sake of being crazy-busy.
"Urge the younger women to love their husbands and children, to be self-controlled and pure, to be busy at home, to be kind, and to be subject to their husbands, so that no one will malign the word of God." Titus 2: 4-5.
4. Evaluate your Life
Are there enough hours in the day to get everything done? Do you have a planned down time each day? Do you have some free, unscheduled time? Are you getting the core homeschool classes done? Has the urgent replaced the important in your house?
Look at each subject area and activity for each person in your home. Add the number of minutes or hours each takes. Estimate the time based on how long each task will take if your child works with reasonable compliance, not how quickly they will get it done when they are 100% attentive, but also not how long it will take if they are totally slacking off and distracted. Estimate time based on bad traffic, trouble getting kids in the car, or difficulty getting them up from a nap.
• Are there enough hours in the day? Like many homeschoolers, you may have 18 hours worth of curriculum, but you will never have enough hours in the day to use it all. Many Americans have the disposable income to provide daily activities for each of their children, but you may not have enough hours in the day to do them calmly.
• Will it cause burnout? If the curriculum is above your child's ability level, or you are using too much curriculum for their needs, then it can cause serious burnout, and frustrated children can spiral into negative self-talk. Excessive activities cause grouchy family members of every age.
• Is your child responsible? You want them to become an independent adult. Encourage your child to learn independently and eventually have independent activities. Simply remember that independence doesn't happen overnight. It's a process that takes years, with lots of training, modeling, and encouragement. And along with independence, you are working to form family closeness that will last a lifetime.
• Are you expecting too much? Some parents expect their children to do school for more hours than the average adult's work day. When you add after school activities, it leaves no time for relaxation or even catching your breath. That's too much! Scale back and limit your homeschool to a reasonable amount of schoolwork for each subject, with core classes first. Add a reasonable amount of activities that still allow for free time as well.
• Did you overestimate mornings? While we would all like to say we get up at 6:00 am to start our day, people rarely bound out of bed and work non-stop until midnight. If your homeschool plans are dependent on making a night owl into a morning person, it won't work. Don't overestimate what time you and your children become functional each morning, or how late you can stay coherent in the evening.
• Can they concentrate that long? The reason schools have 50 minute classes is because studies show this is how long a teenager can concentrate. Studies show that mixing physical activity breaks with seat work increases productivity. Allow a balance between subjects and activities, so your child isn't asked to do seatwork for more than an hour at a time.
• Could you do it as an adult? This is a great way to assess your child's workload. If I told you to sit still, without moving, and pay attention to a computer screen or textbook for eight hours straight, and then run to soccer for three hours, could you do it? I don't think so! If you couldn't or shouldn't complete your plan as an adult, don't ask your child to do so, either.
5. Plan for Margin
Margin is the empty white space in a book that makes it more readable. Margin is also unplanned white space in life that makes life more livable. Instead of being completely overwhelmed by everything going on in your life right now, plan margin into your day. Set up unplanned free time and you are planning margin into your life.
Sleep is required to help your brain recover after a day of work. In a similar way, unplanned time allows the soul to recover. Children need free time to play and teens need free time to develop their individual interests. Parents need free time for sanity. But to achieve margin, you have to say "no" to many good things in life. Focus on leading a sane life. Sanity comes from margin.
6. Learn to Say "No"
Homeschoolers are caregivers, trying to teach kindness to their children. It can be difficult to say "no" when caregiving is in your DNA. Put your priorities first: children and family. Teach your children how to say no politely so people listen. This assertiveness is valued in college, careers, and interpersonal relationships.
Not everyone has the "assertiveness gene" but saying "no" can be taught. There are three easy steps to saying no. The key is to express it as a "No Sandwich." Start with the word "no," add an explanation or humor, and then end with the word "no" again. The other person will hear you this way, but without taking offense. Here is the formula for saying no.
Step 1: Say it. Start with a clear, simple, unambiguous declarative statement that nobody could possibly misunderstand. Choose one of these statements: "No. Nope. Absolutely not. I can't."
Step 2: Explain it. Add a short explanation. While certainly not required, it can make your "no" more polite or easy to swallow. Choose one of these statements: "I'm honored, but I can't. I have other priorities right now. Sorry, my schedule is full."
Step 3: End the conversation and walk away. Sometimes your "no" statement is not clearly heard, so if a polite explanation doesn't end the conversation, try replying with humor. Choose one of these statements: "Are you serious? My life is crazy enough as it is! My brain is full, and I can't fit in one more thing."
Be firm if you aren't heard. You may need to sound more firm, or even harsh, to protect your precious family time. If there are any lingering doubts or you still feel pressured, give your answer one last time with this statement: "Listen to what I'm saying. The answer is no." Then quickly turn to leave, or send the email without any further comment.
7. Institute Calming Policies
A healthy family shares a commitment to each family member. They spend time together and communicate to resolve conflict. Family members express appreciation. They share a common faith. Healthy families teach coping skills to younger members.
The key to a healthy family does not require a huge activity list. It requires balance and communication. As you think through the coming year, try to institute calming policies so your time spent together creates happy memories, not screaming matches.
Have a regular family meeting to prioritize a limited number of activities. Choose activities that are meaningful to the participant. Avoid saying "you should" or "we should" outside these meaningful activities. Share regular meals together as a whole family whenever possible. Plan unscheduled hours with free and quiet time.
The Most Balanced Life Wins
Have you heard "The one with the most toys wins?" It's not true. But neither is it true that the family with the most activities wins. True success is not having the craziest schedule. Success is a healthy, happy extended family in the future. Focus on a sane life, not a busy life.
As an adult, a balanced life includes work, rest, leisure, and family. Teach each portion of a balanced life to your teen. You don't want them to grow up to become a workaholic, anymore than you want them to become a couch potato. You want your young men and women to recognize the value of a balanced life. Demonstrate balance. Teach them what a quality home life looks like. This means spending enough time at home to show the value of your life at home.
How to Avoid a Crazy Busy Life in 7 Easy Steps
(Click it to Pin it!)
To share this infographic, grab the embed code below!
---
Copyright © 2017 The HomeScholar LLC, www.HomeHighSchoolHelp.com. Text may be reprinted without permission if used in full, except for use in a book or other publication for rent or for sale. Reprint must include this copyright, bio (below), and the original URL link (https://homehighschoolhelp.com/how-to-avoid-a-crazy-busy-life-in-7-easy-steps).
Lee Binz, The HomeScholar, specializes in helping parents homeschool high school . Get Lee's FREE Resource Guide "The 5 Biggest Mistakes Parents Make Homeschooling High School" and more freebies at www.HomeHighSchoolHelp.com/freebies.
Recommended Resources

Creating Homeschool Balance: Find Harmony Between Type A and Type Zzz.....
(Coffee Break Book) [Paperback or Kindle Edition]

How do you know if you're doing too much, too little, or just the right amount of schoolwork in your homeschool? Finding that "just right" balance is a challenge because just like everyone has their own preferred porridge temperature, they also have their own individual circumstances and goals.

This book will teach you what balance looks like, feels like, and how to create it. You'll learn strategies to find that unique, perfect balance for your family and homeschool without going crazy!

---

12 Keys to High School Success
Free Class

This class will teach you how to homeschool without going bonkers. I know there are homeschool parents who can compete in the Tour de France while nursing their newborn and teaching their high schoolers Advanced Latin. This class in NOT for them. This workshop IS for those mortal, human, sometimes frail and tired homeschoolers who truly want to do the best job possible preparing their children for college and life but could use a little extra "boost." It will help you diagnose the 12 most common nutties of homeschooling high school and give you the tools and wisdom to overcome them. I promise you will learn solid strategies that will make homeschooling EASIER and MORE REWARDING for both you and your children!

---

The HomeScholar Gold Care Club
The Complete, Personalized Homeschool Support You Need

Homeschooling high school is the greatest educational gift you can give your children. They will be better prepared for college and for life because of the decision you made to give them this precious gift. As a parent, the greatest obstacle standing in the way of your decision to homeschool high school is likely a lack of confidence that you can do the job in a way that will give your children the preparation they deserve.

The Gold Care Club is a complete homeschool high school online support system. It provides "How-To Training" for parents at every stage. In addition to training videos, audios, tools, and templates, members have the option to take weekly consultations with Lee, during which time they can get answers to the questions unique to their situation. Lee also holds a free "members-only" live webinar each month to address the really tough questions.
Save