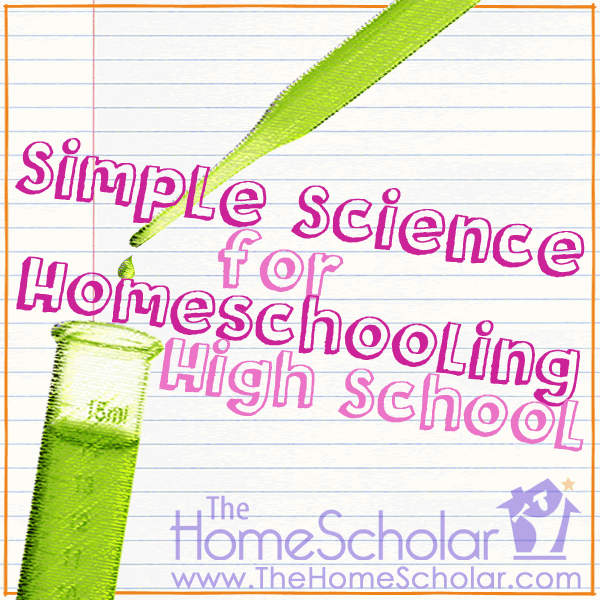 April 2015
By Lee Binz
The HomeScholar

You can do science the easy way or the hard way. Some STEM-crazy parents can do science in their sleep with both hands tied behind their backs. Other parents … let's just say they aren't so enthusiastic. Whether science is your passion or the bane of your existence, let me show you how to make science simple in your homeschool.  You CAN encourage the love of learning, and help your children enjoy science.


Why Teach Science?
Science is a core subject that students need to learn in high school. It's often a requirement for high school graduation as well as college admission. Even though it's important, it can still be a stumbling block for some parents. If your child wants to go into a scientific profession then biology, chemistry, and physics might be important. For other children, branching out is a better idea. You have a wide range of science choices and you do not have to teach biology first, then chemistry, and then physics. If your child naturally loves one branch of science, it's very easy to get stuck on just that one science, leaving your children ill-prepared for a career in science. For science-minded children, be sure to cover biology, chemistry, and physics if possible. For children with no interest in science, expose them to different branches so they get the best possible college prep education in high school and have more choices open to them later on. At a minimum, teach three years of science, including at least one lab science.
What is college preparation? If possible, do biology in 9th grade, chemistry in 10th grade (or after algebra 1), and add at least one more year of science.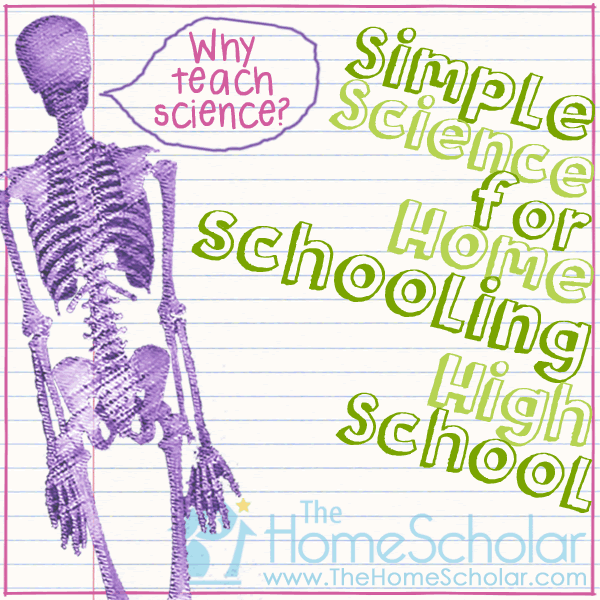 Don't Teach, Facilitate
By the time you get into the high school years, it's important to recognize that your role has changed. No longer the teacher, you become a project manager. Instead of teaching, facilitate learning. Even though I'm a nurse, I was completely a fish out of water when it came to physics. I didn't recognize what the symbols meant, and I couldn't even read the answer aloud because I didn't know how to say the names of the symbols. I still managed to cover physics in our homeschool high school.

Here's what we did. First, my children read the textbook and the teacher's manual. They would work through each lesson on their own. If they got stuck, they could look back at the solution manual and compare their answers to work their way through. When it was time for a test, I took away the solution manual and gave them the test. The answers had to look exactly the way they looked in the solution manual when I corrected each test. It didn't matter if my children claimed their answer meant the same thing; the answer had to be formatted in exactly the same way.
How can you teach what you don't know? Allow teens to use the solution manual so they can teach themselves.
Master the Vocabulary
The easiest way to be successful with any subject is to memorize and master the vocabulary. Teaching the vocabulary is critical for academic success, not to memorize facts, but to learn the ideas each word represents. Even knowing that a "pistil" is part of a flower and not part of a cell can help you understand as you are reading the biology book.  About 80% of comprehending academic textbooks is dependent upon understanding academic vocabulary. It's not as hard as it sounds. Just make a list of the words that are unfamiliar and review them each morning. By the end of the week, it's surprising how many you will know based on simple repetition alone. Donna Young's website has excellent resources for science vocabulary, complete with ready-made lists for you (for example, see Donna Young's Apologia Biology Resources). Learning how to master the vocabulary will prepare your children to succeed in college and career. No matter where they go in the future, whether in college classes or on the job, learning the vocabulary is a key to getting ahead.
Make it easier to learn science. Review vocabulary words daily to increase understanding.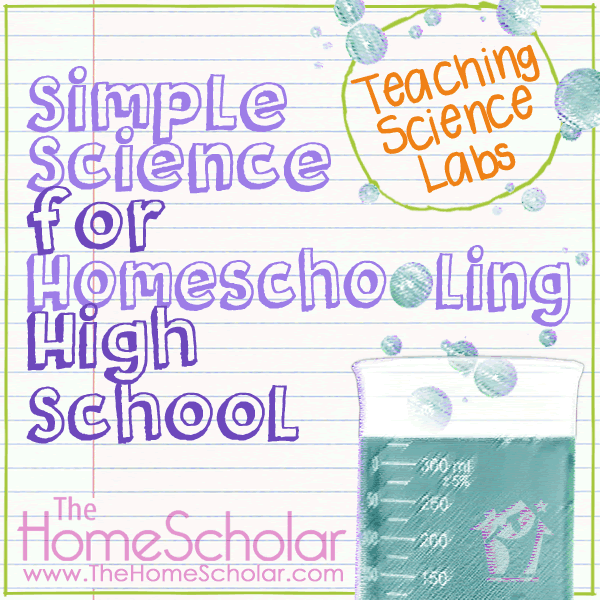 Teaching Science Labs
Generally speaking, colleges want at least one high school science to include a lab. As the instructor, facilitating a lab means making sure your children don't stab each other in biology, blow something up in chemistry, or jump off a building in physics. Beyond ensuring safety, there is no national definition about what a lab science requires. The US House of Representatives Committee on Science and Technology formed the Subcommittee on Research and Science Education that issued a report about high school lab science. They concluded that there is no consistent definition of "high school lab science." As a homeschool parent, keep your lab expectations simple. Do your best to complete the lab experiments that come with your curriculum. If you don't use a curriculum, include something hands-on about once a week. Have your children write a report after each experiment. Keep that report simple, too! Have your teenager write one paragraph describing what they did. You may need to clarify that "paragraph" means 3-5 sentences or more. In addition, have them create a drawing, graph, or chart that demonstrates what they did. You are trying to teach them to be consistent by requiring a short, written explanation after each experiment. Hopefully this will help them consider what they have learned.
What is a science lab? There is no definition, so create your own school policy. I suggest at least one experiment each week.
Choose the Right Curriculum
Whenever you teach a subject you don't know, it's important to use a self-teaching curriculum, intended for homeschooling high school that assumes you don't have a degree in the subject matter. While there are many options, choose something that is tried and true, and well-reviewed, particularly if you loathe science. I chose biology, chemistry, and physics textbooks by Jay Wile. Both my science-lover and my science-loather did well with that curriculum. It's self-teaching and excellent college preparation. When choosing in what order to teach, keep in mind that chemistry requires a good understanding of Algebra 1 first. Don't start physics unless your child has completed pre-Calculus, because it's very math-based.
Where to start? Look first at Exploring Creation with Biology or Chemistry with the lab resources suggested by Home Science Tools.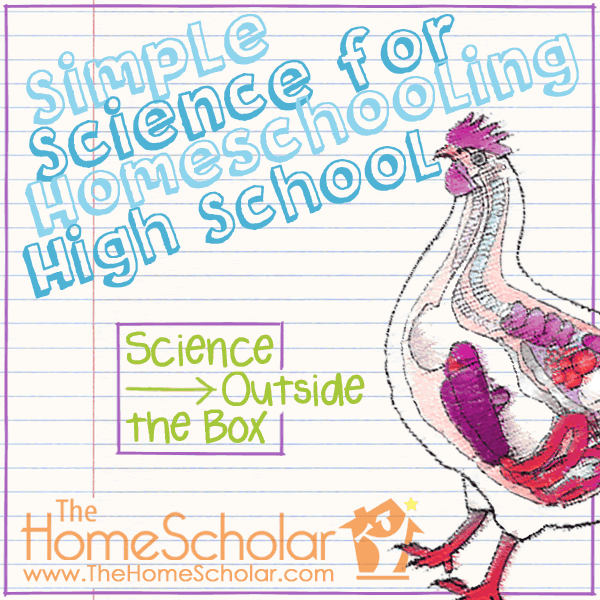 Science Outside the Box
Homeschoolers often seem to think that there are thirteen commandments, adding thou shalt teach biology, chemistry, and physics as the extra three. It's not true! It's fairly unusual for a child to get into physics, because it requires a lot of math to be successful. You can branch out when you teach science! Choose from astronomy, geology, botany, robotics, astronomy, ornithology, marine biology, equine science, computer science, and many other options. Most colleges would like to see at least one of the standard sciences, especially either biology or chemistry. Children who might major in STEM careers (science, technology, engineering, or math) should cover basic biology and chemistry, as well as physics if possible.
What science to cover? For non-science kids, cover biology, maybe chemistry, and one "outside the box" science. For kids planning careers in science, include four science credits, with physics if possible.
Parents Failing Science 
Are you pretty sure you are failing in providing a science education? If you know that science is your own weak area, you can take steps to make sure you are successful with science. Don't feel guilty and stick your head in the sand. Every homeschool parent has a subject they don't understand, tolerate, like, or remember to teach.  When you identify your weak area, do something about it! Prioritize the subject; it's the first subject your student tackles in the morning. It's the one subject you make sure is done every single day.  Even when a fabulous or free opportunity arrives, and all the other homeschool subjects get put on the shelf, this is the one you are sure gets done before you leave the house. It's also the first curriculum you buy each year and the subject you are willing to spend the most money on.  It's the only thing you will be sure to reinvest in, if it becomes necessary. In other words, if you choose a science curriculum and it doesn't work, this is the area you will make a second purchase in – even within the first couple of months of school.
Is science your weak area? Prioritize it with your time, by putting it first each day to be sure you get it done, and prioritize it with your money, by investing in a quality curriculum.
Cover the Core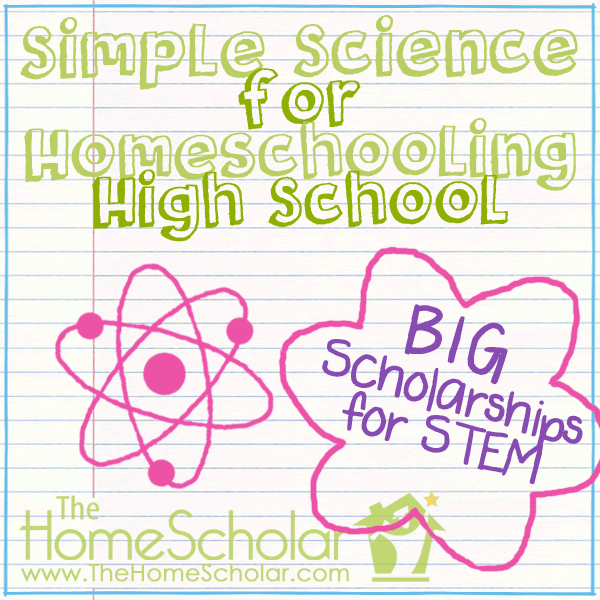 Accept your fate, as you either love science or don't. Every parent has a subject they love and others they don't. We still have to cover the core classes so our kids get a quality education at home. If you hate science, that doesn't excuse you from covering it. Delegate, share the load, buy an organized curriculum to hold your hand, or include supplements to make it more fun, but get it done. Be sure to cover at least biology or chemistry, and provide one more science as well, so you have at least three years of science education, including at least one lab. Unless your child has excelled in math, physics may not be a good option because high school physics is very math-based. Unless your child has started pre-calculus, don't attempt physics. On the other hand, if you love science, it's easy to get distracted by one science topic. Don't get so absorbed in your specific science passion that you forget the bigger picture. Science-minded children are likely to want a science-based career. They will need to have a standard biology and chemistry class in high school, plus physics if possible. Outside the box classes are awesome, but STEM kids will need the standard sciences as well.
Science lovers, don't get so creative you forget to cover the core sciences as well. Science haters, let the curriculum hold your hand, so you stay consistent.
Big Scholarships for STEM 
Scholarships abound for STEM: Science, Technology, Engineering, and Math. If you can prepare your children in science, you can demonstrate a rigorous high school education, and they will have a much better chance of earning college admission and scholarships. Encourage young women toward STEM degrees as well, and they could get college at a discount. Overall, there are more girls going to college than there are boys.  With girls in the majority, they are less likely to receive admission and financial aid. There is an exception though – in Science, Technology, Engineering, and Math, girls are still in the minority.  You can encourage your young women to pursue a college major in a STEM field, which might improve their chances of admission and financial aid.
Teach your children to love science the easy way, so you can prepare them for college and career. With a college preparation education, your child will be ready to tackle any challenge in the future, and enjoy the love of learning today.
---
Copyright © 2017 The HomeScholar LLC, www.HomeHighSchoolHelp.com. Text may be reprinted without permission if used in full, except for use in a book or other publication for rent or for sale. Reprint must include this copyright, bio (below), and the original URL link ( https://homehighschoolhelp.com/simple-science-for-homeschooling-high-school).
Lee Binz, The HomeScholar, specializes in helping parents homeschool high school. Get Lee's FREE Resource Guide "The 5 Biggest Mistakes Parents Make Homeschooling High School" and more freebies at www.HomeHighSchoolHelp.com/freebies.
Comprehensive Homeschool Records: Put Your Best Foot Forward to Win College Admission and Scholarships
(Coffee Break Book) [Kindle Edition]

Does thinking about college admission for your homeschool student fill you with dread? Do you ever wonder how your humble homeschool can compete with those insanely rigorous college prep schools? You can learn to put your student in the best possible light for college admission and scholarship consideration. In this book, you will learn how college admission has changed over the last 30 years and what the colleges now look for in prospective students.

Lee will give you little known insights into the mind-set of college admissions officials and how you can use these can benefit your child. She will give you three keys to successful high school preparation that won't drive you or your children crazy, and show you the core elements of a comprehensive homeschool record that will amaze and impress the colleges. You will be relieved at how achievable creating beautiful records can be, and how they can give you a real advantage in the college admissions game.

Learn what you and your high schooler need to be prepared for success after high school. Don't be overwhelmed by all the options. Lee will walk you step-by-step through each option, what is required, and what to consider.

---

Delight Directed Learning
(Online Training)


Colleges may call it "passion" and homeschoolers may call it "specialization." Whatever the name, delight directed learning can help you homeschool now and help your teenager with choosing a college major and making career plans for the future.

This class will discuss how to identify delight in your children, and fan the flames of their passion to increase the intensity of their college preparation. You will learn how to cover the core classes and capture specialization credits, how to determine transcript course titles, credit values, and grades, and how specialization can be included on the activity and awards lists to increase chances for earning college scholarships.

---

Setting the Records Straight: How to Craft Homeschool Transcripts and Course Descriptions for College Admission and Scholarships
[Paperback]

Parents who consider homeschooling their children through high school are often consumed by insecurity - "Are we ruining their college chances?" Well, there's no need to worry. When it comes to college admissions and scholarships, homeschoolers have what the colleges are looking for! You CAN craft high school transcripts and records that gain choice college admission and win BIG scholarships.

Lee Binz, The HomeScholar, has helped thousands of parents create outstanding homeschool transcripts and records. Her proven system will teach you how to present your child to colleges in the best possible light. You'll learn how to build a winning homeschool transcript , regardless of your homeschool methods or style, how to create credible grades and credits, even if you don't give tests, and how to provide the exact records the colleges are looking for.