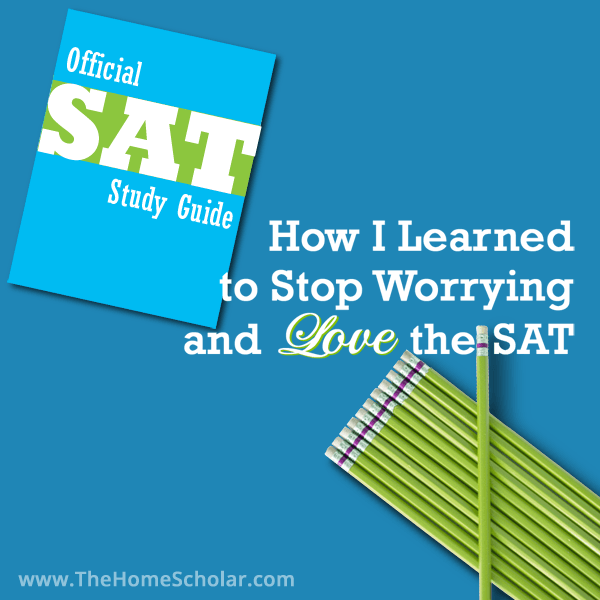 May 2014
By Lee Binz
The HomeScholar
Big Changes Coming with the Redesigned SAT

Big changes are coming. I hate change. Do you sigh every time you are faced with a software update? With each change, I'm sure it will be the last time I will ever be able to figure out my electronic device. Each change has a learning curve, and I'm never sure if it's worth the effort.

And now this. Another change to the SAT. Essay optional. No penalties for wrong answers. Mental math. Computer-based. Free test prep. What does it all mean? Think of this like "updating your operating system." It's a change, you can't avoid it, so you just need to deal with it. Learn about the change and how to use it as best you can. And then hope it's not a dud of an operating system!

SCORING

In the new SAT test, reading and writing will be combined into one section called "Evidence-Based Reading and Writing." It will still have the usual 200 to 800 point scale. The Math section will also be scored between 200 and 800 points. The essay is optional, and that score will be reported separately. There will be only two mandatory subjects in the future test, so the test is returning to a 1600 scale. At least a 1600 score will again be something to brag about once again, rather than demonstrating mediocrity. The average score will continue to be about 500 per section, or 1000 for a total average score.

The test will last about 3 hours plus 50 minutes for the optional essay. The penalty for guessing will be removed, so a wrong answer will not be worse than leaving an answer blank. This new SAT will be available on paper, but in some locations it will be available as a computer-based assessment. Throughout the test, students will be reading about science and social studies. Let me explain each of the new sections for you.

ENGLISH

When you read about the new English section, there are three key phrases you need to understand. First, they refer to "relevant words" which means they are focusing on more widely-used vocabulary words from the workplace. Second, they talk about "evidence-based reading and writing." That means the test will have a different feel, because students will need to support their answers by indicating where they found the answer in the comprehension passage. Third, readings used will include "Founding Documents or the Great Global Conversation." This means students will be reading documents such as the Declaration of Independence, Bill of Rights, Lincoln's Gettysburg Address, or Martin Luther King Jr.'s "I Have a Dream" speech and Letter from a Birmingham Jail.

ESSAY

The new SAT will have an optional essay. It will also be a longer essay - 50 minutes long instead of 25 minutes. This will be an essay analyzing a source, so it's not just about writing but also about understanding. Currently the ACT test has an optional essay, but many colleges require it anyway. I expect that to be true for this test as well. Many colleges will require the essay, so I suggest you prepare your child for the essay. Preparing your children to write well is one of the best things you can do for their long term success in college and career!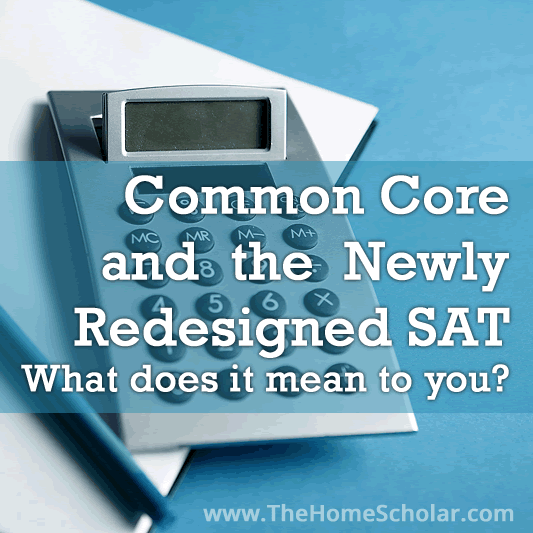 MATH

The new SAT will narrow the scope of the math tested. It will focus on just 3 things: Problem Solving and Data Analysis, the Heart of Algebra, and Passport to Advanced Math. To me, it sounds like geometry will be an after-thought, and a thorough understanding of mathematics and algebra should help students score well on the test. Calculators will only be allowed in certain math sections, so there will be an emphasis on mental math, and understanding math in the real world.

Khan Academy Partnership

The College Board is the maker of the SAT test, and they have partnered with homeschool friendly KhanAcademy.org to provide free test preparation resources. You may already be using Khan Academy to supplement your classes with their online videos! They are making comprehensive SAT prep materials open and free for everyone using their interactive software. Instructional videos will be available in the spring of 2015, so students will have one full year of review before the newly redesigned SAT begins.

Because this is a free resource, the hope is that it will close the income gap of SAT prep, and be a meaningful resource for children in failing public schools. This will level the playing field for those who can't afford test prep. Anyone who has access to the internet can use Khan Academy's interactive software that responds to individual student answers, instead of costly one-size-fits all test prep books and classes.

Increasing test scores in low income families can increase the scholarships they earn, making college more affordable to struggling families. The new SAT promises that low-income students will be able to apply to up to four participating colleges free of charge as well. However, I have not yet seen any details about how that will be put into place.

Common Core and SAT Changes

Everyone is comparing the SAT changes to the Common Core, and there are two good reasons for this comparison. First is authorship. The author of the Common Core is also the President of the College Board, creator of the SAT. Second is funding. The Bill and Melinda Gates Foundation is the primary source of private funding for the Common Core standards. That foundation also gave a million dollars to Khan Academy to align with common core standards. Khan Academy is the source of free test preparation for the new SAT.

Some parents have embraced the Common Core and others loathe it. Regardless of your opinion, educate your children in a way that fits their unique needs. Use what will work for your child, whether it is common core compliant or not. Your children will likely need a college admission test, so allow them to take the test that will make them look the very best. If you are passionately opposed to the Common Core, remember to keep your fight separate from your responsibility to educate your children. In other words, don't let your feelings about the Common Core influence you away from choosing the best educational path for your children. It's possible to meet the needs of your child now, while working politically for a better future.

There has been some concern that the new SAT is dumbing down the education of children. The concern is that "relevant words" means easier vocabulary and that that there is less focus on advanced math. If this is true, your children will simply do that much better and receive more scholarship money. As we continue to educate our children in a way that makes sense, our children will have a strong understanding of all core subjects.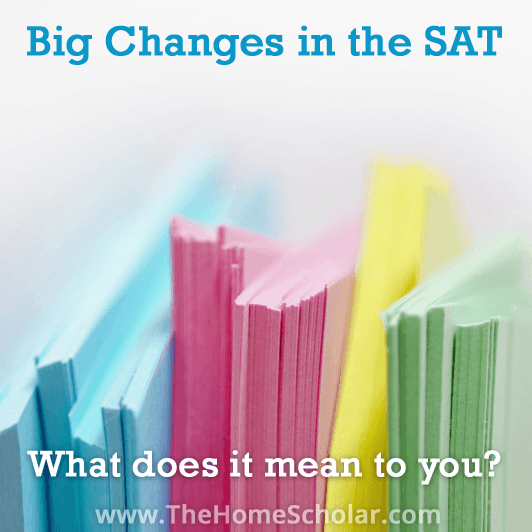 What this Means to You

Do some quick mental math and figure out what year in June your child will graduate high school. Children graduating in 2015 and 2016 will take the current, older version of the SAT in their junior year (11th grade). Those children will not experience any changes in the SAT at all. No change in preparation is necessary. Use the older version of SAT preparation materials.

New SAT or not, take college admission tests on time. Change or no change, have your child take the PSAT for fun in October of 10th grade. Take the PSAT for real in October of 11th grade. Take the SAT (or ACT) in the spring of 11th grade, and repeat the test again if your child stands to get a better score next time.

NAVIGATING THE CHANGE

Children graduating in 2017 or later will be navigating the change to the newly redesigned SAT. Don't panic! This is exactly what happened to me and my children. My Kevin and Alex were the guinea pigs for the last major change. The SAT change will affect children who are starting junior year in 2015. Test preparation materials should begin to be available in the spring of 2015, when they are sophomores. If test materials aren't available, students can use the Khan Academy program for test preparation. The PSAT will also change at the same time. The new PSAT will be available in October 2015 so children can take the new PSAT as practice for the new SAT. It's extremely important that all children who are juniors in October of 2015 take the new version of the PSAT test.

Expect a little bit of chaos. The test will be new for test administrators and colleges, as well as students. For students graduating during this transition period, I suggest taking both the SAT and ACT during junior year. That will allow colleges to use the scores that make the student look smarter, so they can award better scholarships. If there are complaints about the new test, a technical problem, or some other issue, your child will still have the ACT to lean on. Children graduating in 2018 or later will experience only the new format.

TEST PREPARATION

The best test preparation will always be a good education. In the elementary school years, focus on reading, writing, math, and penmanship. In the middle school years, continue to focus on the core subjects, and include keyboarding. The SAT will become computer-based so typing skills will be critical to help them be prepared. Make sure you are teaching math with a curriculum that makes sense to your child and continue moving forward, one level each year. In high school, teach your child to write a complete essay in 50 minutes.

Choose the best college admission test for your child. Give a sample of the SAT and a sample of the ACT at home and see which test makes your child look smarter. Then have them study for that test and plan to take the optional essay if at all possible. The best test preparation uses real test questions.

Some changes are neither good nor bad, they are just different. I think this is one of those changes. It's annoying, there is a bit of a learning curve, but it's not necessarily a good change or a bad change. Learn more about the newly redesigned SAT here: SAT Redesign

For more opinions and information on the SAT redesign, you may find these websites and articles helpful:


FREE Webinar and Ebook!
Taking the Mystery Out of the SAT and ACT!

Lee Binz, The HomeScholar, is proud to share this webinar and companion ebook she developed with Andrew Pudewa, Director of the Institute for Excellence in Writing. In these materials, Lee and Andrew share amazing insights and little known secrets to help you prepare your homeschool student for the most important standardized test of their life.

Discover the Homeschool Advantage in ACT & SAT testing
Learn which test will make your student look like a genius
Discover which section of the SAT is the most predictive of college success, and MORE!
Coffee Break Book for Kindle or Kindle App
High School Testing: Knowledge That Saves Money

Understanding the common high school tests, such as the SAT, ACT, AP, CLEP, etc., can lead to huge college savings.

HOW? Because colleges reward high test scores with great scholarships. That's why it's important to learn all you can now to help your child do their best on any tests they take.




No Kindle? No Problem! Download one of the free Kindle apps to start reading Kindle books on your smartphone, tablet and computer. Free Kindle Apps on Amazon
Copyright © 2014 The HomeScholar LLC, www.HomeHighSchoolHelp.com. Text may be reprinted without permission if used in full, except for use in a book or other publication for rent or for sale. Reprint must include this copyright, bio (below), and the original URL link (https://HomeHighSchoolHelp.com/major-changes-with-redesigned-sat).

Lee Binz, The HomeScholar, specializes in helping parents homeschool high school. Get Lee's FREE Resource Guide "The 5 Biggest Mistakes Parents Make Homeschooling High School" and more freebies at www.HomeHighSchoolHelp.com.