December 2015
By Lee Binz
The HomeScholar
It happens every Christmas … all your warm, fuzzy ideals end up in shambles, and you end up feeling frazzled and stressed. The easiest way to stay sane through the holidays is to set balanced expectations of yourself, your family, and your budget.

Start the month right, by planning ahead. You can work on at least one thing a day to make the whole month easier for you to manage!

25 Ways to Stay Sane in December
1.    Make Ahead Meals – Spend the first weekend filling the freezer with meals for your family. (Learn How)
2.    Freeze the Party – Cook what you can for Christmas week and Christmas dinner. (Holiday Freezer Cooking)
3.    Create a Gift List – Decide who will receive gifts and how many, and keep the list with you. (Gift Ideas)
4.    Read Great Books – Choose holiday classics to read aloud together. (Holiday Reading List)
5.    Choose an End Date – Choose your last day of school before Christmas break and mark it on the calendar.
6.    Set Time Limits – Do the academics in the morning, with less structured afternoons.
7.    Focus on Fun School – Focus on PE, Culinary Arts, and Home Economics. (How to Collect Credits)
8.    Do Less "Schoolish" School – Eliminate a workbook, textbook, or assignment this month.
9.    Swap School Strategy – Don't add any assignments unless you take something out.
10.    Set Your Budget – Christmas is not about money or gifts. (Money Saving Tips)

11.    Prioritize Family – Sing, cycle, sled/toboggan, ice skate, or watch holiday classics together.
12.    Savor Sane Moments – One peppermint mocha or pumpkin latte can make a difference.
13.    Make Bake Ahead Treats – Bake sweet bread or cookies, or freeze cookie dough to enjoy at a busy time of the season.
14.    Create Family Traditions – Decide what memories you want to create for your child and work on them.
15.    Practice Self Care – A warm bath, candles, and chocolate can change your perspective. 
16.    Pay for Help – Hire a housekeeper, landscaper, or helper for just one day.
17.    Focus on Family – Your mission is your family right now, so enjoy it without guilt.
18.    Date Your Spouse – One babysitter for one night can help get you through the month.
19.    Decorate Simply – Be realistic and choose what is easy to set up and take down.
20.    Take it Easy – Not everything should be handmade; choose the easier way when possible.
21.    Watch Body Mechanics – Grab a chair and pay attention to your posture while crafting and wrapping.
22.    Love Your Neighbor – Take a treat of baked goods and fruit to their door with a card and a smile.
23.    Serve Others – Volunteer to serve, or perform music at church or a retirement home. (Volunteering Ideas)
24.    Set Aside Quiet Time – Use that daily reminder to keep your focus on what is most important.
25.    Just Say No – Politely but firmly decline opportunities that take your focus away from priorities.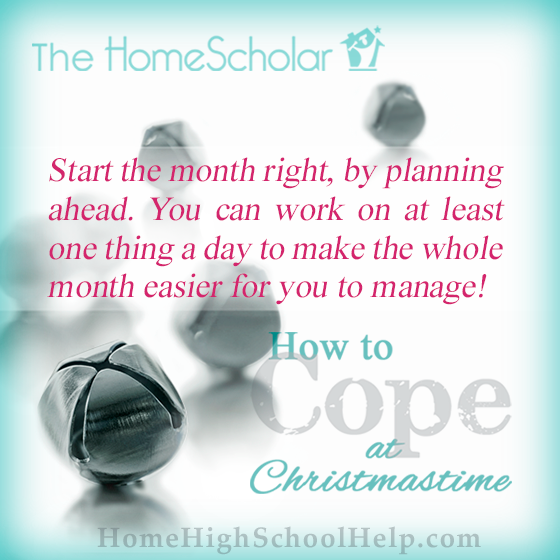 Of course, you can't get all this done if you are talked into helping out with every event, party, or family function. You need to set limits. You want to live with no regrets and if your own family comes last, you'll be sad after they are grown and gone. Family comes first. But some people struggle with the concept of "No" and other people can't hear it.  If you have trouble with it, take this time to learn how to say "No" effectively.

How to Say No in 3 Easy Steps
There are three ingredients involved in saying no. First, you say it. Start with a clear, simple, unambiguous declarative statement that nobody could possibly misunderstand.

Second, you explain it. Add a short explanative statement, if needed or desired. This is not required, but can make your "no" more polite or easy to swallow.

Third, end the conversation. In some cases when your "no" statement is not clearly heard, and a polite explanation doesn't end the conversation, end the request with humor.

Finally, be firm if you aren't heard. If there are any lingering doubts or you still feel pressured, give your answer one final time and quickly turn to leave, or send the email without any further comment.  If our friendly approach and humor doesn't work, you may need to sound more firm, or even harsh, to protect your precious family time. 

Homeschooling parents are care-givers, and it's very difficult to say "No" when care-giving is in your DNA.  This is a simple formula to clearly communicating your "No" in three easy steps.

If you're looking for more Christmas decorating and baking ideas, check out my Holidays – Christmas and Winter Pinterest board. Have a blessed and more relaxed Christmas season this year!
Do you want to embed this infographic on your site or blog?
To share this infographic, grab the embed code below!
Recommended Resources


Finding the Faith to Homeschool High School: Weekly Reflections for Weary Parents
You already have kids, curriculum, pens, and paper ... now you just need to find the faith!

When you homeschool high school, sometimes the only thing separating success from failure is faith and a friend. This book will give you both! Imagine sitting across the table with a dear friend at your favorite coffee shop, sharing struggles and scriptures with each other. Let Lee Binz, The HomeScholar, be that dear friend who can lift you up with scriptural hope and encouragement.



---


Homeschooling the Holidays: Sanity Saving Strategies and Gift Giving Ideas
(Coffee Break Books) [Kindle Edition and Paperback]
Holiday seasons—especially between November and January—are busy times. Celebrations like Thanksgiving, Christmas, New Year's, Hanukkah, and more seem to tumble on top of each other, with no time in between. For many homeschoolers, it seems that any idea of homeschooling just goes out the window during these times. Is it even possible to stay sane and continue to homeschool, even a little?!



---

Setting the Records Straight: How to Craft Homeschool Transcripts and Course Descriptions for College Admission and Scholarships
[Kindle Edition and Paperback]

Parents who consider homeschooling their children through high school are often consumed by insecurity - "Are we ruining their college chances?" Well, there's no need to worry. When it comes to college admissions and scholarships, homeschoolers have what the colleges are looking for! You CAN craft high school transcripts and records that gain choice college admission and win BIG scholarships. Lee Binz, The HomeScholar, has helped thousands of parents create outstanding homeschool transcripts and records. Her proven system will teach you how to present your child to colleges in the best possible light. You'll learn how to build a winning homeschool transcript, regardless of your homeschool methods or style, how to create credible grades and credits, even if you don't give tests, and how to provide the exact records the colleges are looking for.
Copyright © 2018 The HomeScholar LLC, www.HomeHighSchoolHelp.com. Text may be reprinted without permission if used in full, except for use in a book or other publication for rent or for sale. Reprint must include this copyright, bio (below), and the original URL link - https://www.homehighschoolhelp.com/how-to-cope-at-christmastime
Lee Binz, The HomeScholar, specializes in helping parents homeschool high school. Get Lee's FREE Resource Guide "The 5 Biggest Mistakes Parents Make Homeschooling High School" and more freebies at www.HomeHighSchoolHelp.com/freebies.