Home Field Advantage
Better Homeschooling through Football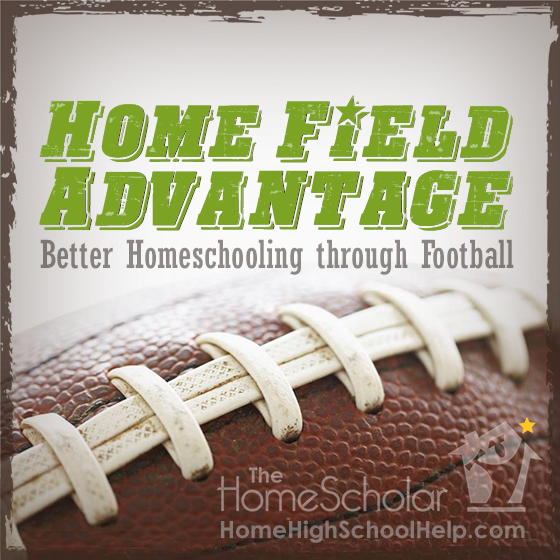 September 2015
By Lee Binz
The HomeScholar


Professional football players know their game is a metaphor for life. As we embark on the new football season, some of us die-hard fans might become engrossed by what's happening on the field and miss some valuable lessons we can apply to our homeschooling. Let's look at homeschooling through a gridiron lens, so you can become a professional success in your career as a homeschool parent. Each stage of the game yields valuable insights you can use. Check out this play-by-play to learn what you can about each stage of homeschooling high school.
Tailgate Party: Elementary School
Before the game even begins, fans start celebrating a win. The homeschool tailgate party is elementary school, when education is all about food, folks, and fun. Feed the love of learning, share true socialization with parents and friends, and add joy by making subjects more fun to learn. These lessons can be integrated into daily life, nurturing the budding intellect.

Pre-Game Warm-Up: Middle School
Before play begins, team members stretch their muscles. The warm-up for high school is middle school. Parents stretch themselves by learning about high school, and children stretch their academic ability. It's the time to identify strengths and shore up weaknesses. Communication is key to ensure all participants are on the same page. Parents must review the game plan to understand what is coming, so the team can play as if each game is a step toward the Super Bowl. Team players must know their opponents, such as chemistry, calculus, and economics. These opponents can be defeated with a solid game plan and plenty of practice, so the pre-game warm-up is essential for success.

First Quarter: Freshman Year
Kickoff is game time; it's no time to panic. For homeschool parents, freshman year is a time to calm nerves. You have practiced and prepared, and had a successful pre-season. Now is not the time to be freaked out or terrified. Someone has to score first, and sadly, it may not be you. If you give up a touchdown or two, don't give up! Stick to your game plan, and cover the core classes. You'll be prepared for anything, no matter the score at the end of the first quarter.

Second Quarter: Sophomore Year

Coaches know getting on the scoreboard during the first half is critical. Homeschool parents should get a good start with their sophomore. Add foreign language, fine art, P.E., and electives, so you can score early with high school credits. Have your child take the PSAT/NMSQT® for fun and enroll in college prep classes to earn more points toward college admission and scholarships. Pro teams adapt, and make substitutions during the game. Great homeschool parents do the same, changing curriculum and scheduling substitutions to adapt when challenges occur. It's important to outscore your opponent this quarter, so you can start the second half with a lead.

Half Time: Summer before Junior Year
During half time, football coaches continue to work. They have learned new information about their opponent, and can regroup to make adjustments for the second half. Without looking back, they keep their eyes forward to see how they can win. Homeschool parents are their children's best coach when they look ahead to junior year to develop a plan. Talk about the coming second half, make a plan, and make course corrections. Parents can get new information about their opponents by learning more about college admission and scholarships.

Third Quarter: Junior Year
To win a football game, it helps to gain or keep the lead in the third quarter. It's difficult to come from behind in the fourth, and impossible to win if you're not on the scoreboard! For homeschoolers, the third quarter is junior year – the key to success. Run up the score during 11th grade in five big ways. Take the PSAT/NMSQT®, attend a college fair, take the SAT® or ACT®, visit college campuses, and make some college choices. Each score gets you one step closer to victory.

Fourth Quarter: Senior Year
Keep the score in your favor. Avoid a last minute Hail Mary play; it rarely works, and it gives control to your opponent. Homeschoolers should start senior year strong, and not let go of their lead. This quarter, get on the scoreboard in three big ways. Apply to at least four colleges early in the fall, personalize college applications with self-reflective essays, and complete the FAFSA® for maximum scholarships. Glide through the quarter, maintaining your lead so you can win the college admission game.


Super Celebration: Spring of Senior Year
From the first Sunday game to the Super Bowl, every win is a celebration. Homeschoolers celebrate by having a unique graduation for their senior. Choose your MVP - the best college for your child. Plan a celebration – a graduation party, ticker-tape parade optional. Give a meaningful trophy – the high school diploma and transcript.

It's All about Teamwork
A win worth celebrating comes from teamwork. For homeschool parents and students, that means true education represented by comprehensive homeschool records combined with helpful test scores. Winning teams value the fundamentals of a college prep education. Super Bowl teams maximize the special abilities of their franchise players. In the same way, homeschool parents can maximize the fun factor in education, embracing their children's passions with delight directed learning on the homeschool transcript.

Winning throughout an entire football season takes skill but also luck, because of challenging schedules and possible injuries. But good teams plan ahead for those problems. As the great Vince Lombardi said, "Luck is where preparation meets opportunity." Great homeschool parents plan ahead for problems, too. Be consistent from the beginning, so you never fall behind. Be prepared for anything by planning a college prep education that maximizes learning, because teenagers change their minds. Your star player will be prepared for anything that way – from college to career!
Game plan below!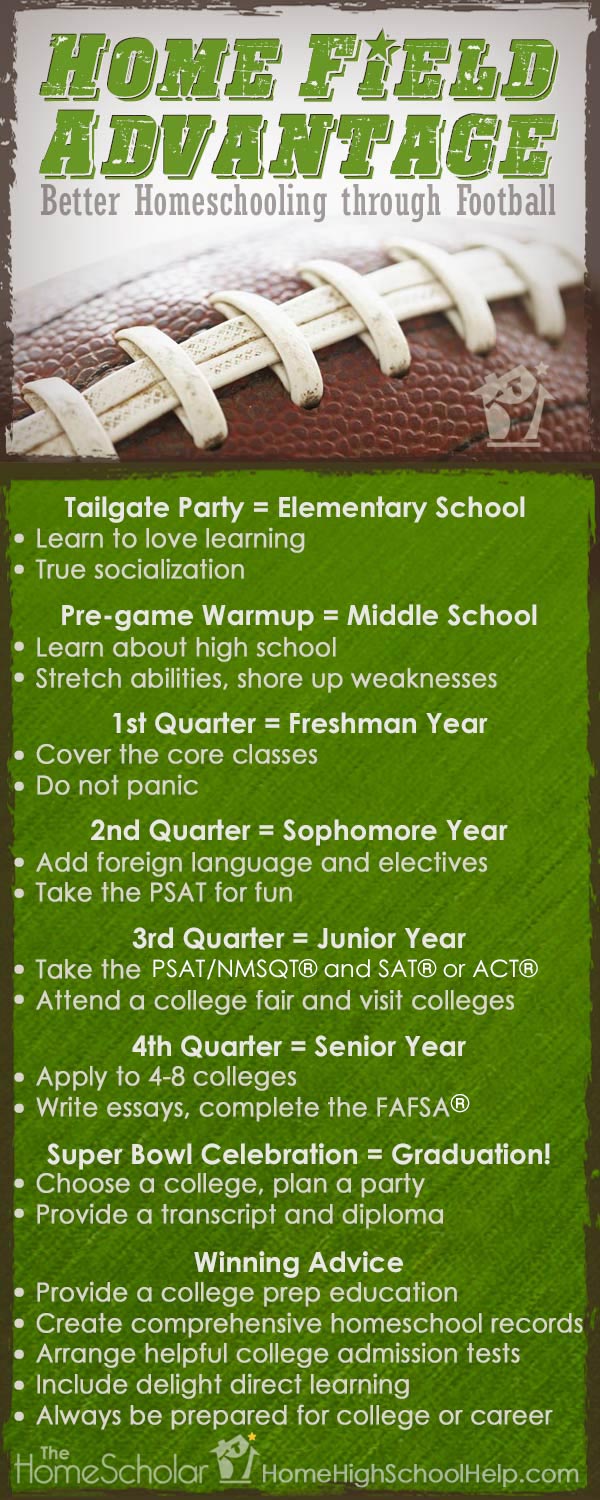 SAT®, AP®, CLEP®, and SAT Subject Tests™ are trademarks owned by the College Board, which is not affiliated with, and does not endorse, this blog post or The HomeScholar, LLC.
---
Copyright © The HomeScholar LLC, www.HomeHighSchoolHelp.com. Text may be reprinted without permission if used in full, except for use in a book or other publication for rent or for sale. Reprint must include this copyright, bio (below), and the original URL link (https://HomeHighSchoolHelp.com/take-the-psat-for-fun-and-profit).
Lee Binz, The HomeScholar, specializes in helping parents homeschool high school. Get Lee's FREE Resource Guide "The 5 Biggest Mistakes Parents Make Homeschooling High School" and more freebies at www.HomeHighSchoolHelp.com.
Your Goals This Year: A Year by Year Guide to Homeschooling High School
(Coffee Break Book) [Kindle Edition]

Many homeschool parents are intimidated by the thought of homeschooling through high school, and are unsure about how to plan for this final stage of their child's education.

Are you stressed out about homeschooling high school and don't want to be given too much information or you will become immobilized and unable to do anything? Are you confident about homeschooling high school and want all the information at one time, as soon as humanly possible?

No matter which kind of homeschool parent you are, this book will help you understand the stages of homeschooling high school, put you on the path to success, and keep you from feeling overwhelmed. You can homeschool through high school, and here are the tools to help you.




---


Best High School Guidance Counselor
(Online Training)



Learn what a guidance counselor does, and why parents are the best high school guidance counselors. Learn to educate with flexibility, plan classes, arrange tests, find a college, and guide the college application process.




Find out the key ingredient that will ensure your success, determine the steps that will help you achieve the most important tasks for high school, and learn to evaluate your progress and assist your advising.




---




The HomeScholar Guide to College Admission and Scholarships: Homeschool Secrets to Getting Ready, Getting In and Getting Paid
[Paperback]

There's nothing more stressful to parents than college admission and scholarships. Many parents question whether it's even possible to find a college that is satisfying to both parent and child, a college that will love their student and offer them scholarships to attend. "The HomeScholar Guide to College Admission and Scholarships" puts these concerns soundly to rest. Author Lee Binz shares the principles she followed to help her own students achieve admission and full tuition scholarships to their first-choice universities.




Learn the secrets to successfully navigate the college process from start to finish, including selecting a college, negotiating college fairs, earning merit-based scholarships, and marketing your student effectively. Receive gentle encouragement and practical help from Lee Binz, a homeschool coach and mentor who really understands. Relax and enjoy a casual conversation, sprinkled with scripture, humor, valuable tips, and quotes from The Princess Bride! Whether you're looking at college entrance for your first graduate or want to do better with your next child, you will find countless treasures in this book.