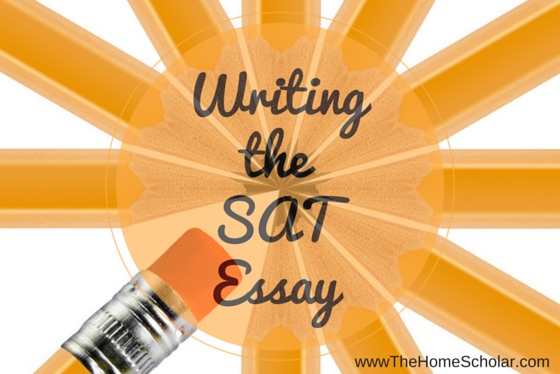 Writing the SAT Essay
In
How is the SAT Essay Scored
I shared what it takes to get a perfect score on the SAT essay. While it isn't only about length, it definitely needs to be lengthy. Still, 50 minutes to write a well organized, well articulated, lengthy essay may seem like a tall order. What about all the steps for creating an essay, such as brainstorming, outlines, and editing. Are you a bit worried about "teaching to the test" and having to spend a lot of time practicing the essay?
I know that it's frustrating to have to "teach to the test." Let's try to look at it from a different perspective, though. Writing is very important and I'd like to suggest that there are two completely different kinds of writing.
First, there is writing that is edited, proofread, and "perfect." For adults, this can be newsletters, Christmas letters, and letters to the editor. For children, this can be reports and essays they write, both for fun and for homeschool.
The second kind of writing is impromptu writing, which has to be GOOD but it doesn't have to be PERFECT. This can include casual business writing, job applications, interview questions, etc. For children, the second kind of writing will include essay tests, AP exams, and the SAT essay.
The two kinds of writing involve completely different skills.  My sons are glad they developed BOTH skills, but I've only been formally THANKED once. When Alex took his first college essay test, he greeted us that day by saying,
"Thank you SO much for teaching us to write a college essay! I aced my test today and the other kids had trouble writing for a timed test!"
Yes, you want to teach your children good quality writing with revisions. I also think it's important to be able to write an essay that includes brainstorming, outlining, and writing. You will find your children DO use that skill in college and in life.
Are you worried about your child writing the SAT essay? Share in the comments!
Please note: This post was originally published in July 2008 and has been updated for accuracy and comprehensiveness.
Looking for a great resource on high school tests such as the SAT? Check out my Coffee Break Book, High School Testing: Knowledge That Saves Money.