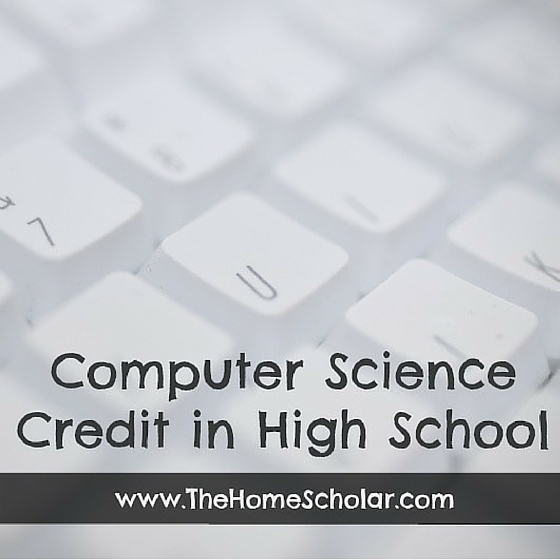 Are you confident on how to give grades, assign credits, and create transcripts for all your classes, including Computer Science? Let me show you how. Click to register: A Homeschool Parents Guide to Grades Credits and Transcripts Webinar
Does your child need a computer science credit? It's easy to cover in your homeschool! There are many topics you can cover for a computer science class. Colleges want to know that your children are computer literate. Learning to use Microsoft Word, internet skills, email, and keyboarding skills all demonstrate computer literacy. In some states, one of the graduation requirements is a technology credit for high school. But don't worry, it's a VERY broad, nonspecific requirement, and almost anything goes.
If your child is already computer literate, then you can give them credit based on the skills they possess. Put together a course description listing your child's skills. Ask the child to help. A more computer savvy teen will be able to list quite a few programs they can use. You can also go through the programs file on your computer with your child and ask which ones they are familiar with. Can they use Excel? How about PowerPoint? Some kids are online almost constantly, so ask them if they can make YouTube videos, code a website, or write on a blog. These are great skills to learn and have for the future.
Computer Science Credit
Computer science is about the software and coding - the binary code of computers. This might be a good class title if your child is learning computer coding languages, creating software, developing apps, learning operating systems, and developing websites. There is an AP Test in Computer Science. If your child is good at this kind of techie stuff, consider if taking a Computer Science AP Test might be a good option.
Computer Engineering Credit
Computer engineering is about the hardware, or the physical pieces of the computer. This might be a good title for kids who are putting hardware together, and working on computer equipment, circuit boards, routers, microchips, and electrical stuff.
Computer Technology Credit
Technology is a basic class describing how to use different kinds of technology. If your child is NOT computer literate, then you can create a computer class emphasizing basic skills. I would focus on basic Microsoft Office skills (Word, Excel, PowerPoint), keyboarding, (perhaps using the Mavis Beacon program), as well as basic internet skills. Remember that the goal is computer literacy, and independence at college and in life.
What are you using as a Computer Science credit in your homeschool? Please share!


Looking for ideas for planning high school courses? Check out my ebook for Kindle/Kindle app, Planning High School Courses: Charting the Course Toward High School Graduation.
Please note: This post was originally published in July 2009 and has been revamped and updated for accuracy and comprehensiveness.