What if They Say They Aren't Going to College?
"Always be prepared" is a great motto for homeschooling high school.  But what does it really mean in real life?  What does a real mom do when her son or daughter refuses to go to college?  My friend De'Etta shares her decisions - and the marvelous results of always being prepared.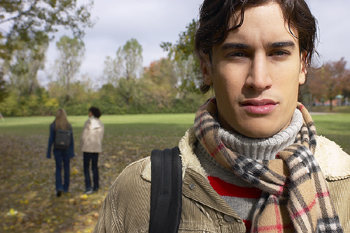 I have a son who felt the same way (That he would not go to college.) We decided not to make a big deal out of attending or not attending college. Why? Because we raise our children to be adults by the time they graduate and we realized it would be HIS decision when the time came.

Instead we brainstormed with him about what he WOULD like to do when he graduated. Every idea involved owning a business.  We told him he should begin to save up $ so that he'd have the investment to begin a business. We also told him that since he wasn't planning on college there WERE things we felt all well-rounded individuals should know and he'd have to work really hard to get that good framework before he graduated high school.

In other words our "not going to college" son had a harder  course mapped out by us than our "going to college" children have.

He agreed. His education while at home WAS our decision (though we follow their interests as much as possible.) He got a job and began saving to move back to Alaska and open a fishing guide company. By the time he graduated he'd been invited back to Alaska....however, he'd also seen what happens to many young adults with no motivation and no education. He was a manager at Chick Fil A by the time he was 17. His boss is a HUGE MENTOR to youth. He liked that. He decided owning a Chick Fil A would be good....and found out you have to a business degree to own a Chick Fil A.

He decided THE WEEK BEFORE HE BEGAN COLLEGE to go to college.

He was able to easily test where he needed to because of his high school education, he had money saved for the school, he had taken a "college prep" track (though in our homeschool it was the non-college track) and he's had no trouble at all. It was his choice. We didn't fight. We supported him regardless of the route he wanted to go. We all agreed on the goals.....the path to get there is varied.

He is now a Junior at the university. He's paid for college himself, he has next year's tuition saved. He works 40 hours a week. He's led workers to the Lord at Chick Fil A....and they have him fast-tracked to own a restaurant....not sure if that's where he'll eventually go.....but in all....we knew he'd eventually be a businessman - and here he is.

I'd listen, pray, encourage and then continue to do all that needs to be done to prepare your daughter in case she decides a week before college that she wants to go after all.

De'Etta

~ Coram Deo ~
Living all of life before the face of God...
Family Blog: http://not2many.blogspot.com
Homeschooling Mom of 9 children ranging in age from 4-24 years old.

The Gold Care Club is changing on April 3.  First, we will be limiting our membership to Gold Care Club to 400.  Second, the monthly fee for the Gold Care Club is going from $27/month to $47/month.  Between now and April 3, you can lock in your membership at $27/month if you join.  I will not be raising the price for any existing members.  You can get more information about The Gold Care Club here.