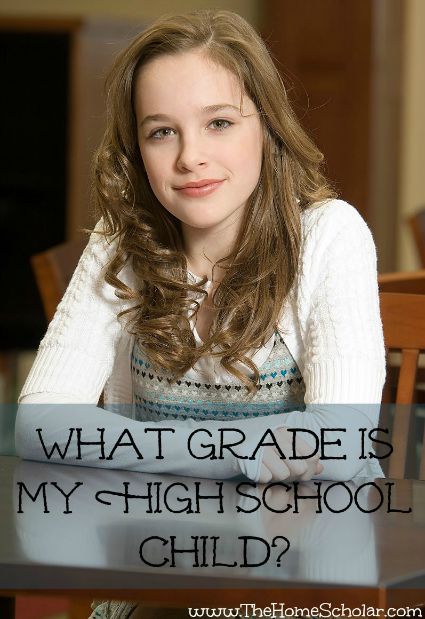 There you are, homeschooling the normal and natural way, not worrying about grade levels. After all, when your child is younger, how can you really tell what grade they are in? Because they could be in 5th grade math, 8th grade spelling, and using a 7th grade history curriculum. But when you have a high school student, suddenly everyone wants to know.
What Grade is My High School Child?
The easiest way to determine grade level is to decide what year the child will be graduating from high school, and then count backward. In other words, if your child is graduating next spring, this is the senior year. If your child is graduating a year from next spring, then your child is a junior this year.
The only time grade level REALLY matters is when you take the PSAT for real. They will ask the child what grade they are, and only the 11th grade PSAT will count for the national merit scholarships. (You can take it in 10th for fun, but only the 11th grade level counts for scholarships.) Other than that, it's all about when will the child graduate.
The standard age and grade level for high school children may be helpful to know.
Freshman, grade 9, begins at age 14-15
Sophomore, grade 10, begins at age 15-16
Junior, grade 11, begins at age 16-17
Senior, grade 12, begins at age 17-18
But do standard age and grade levels matter? Not always - it depends on the child and the family. And sometimes it depends on the grade level of their friends, too.
When you are making the decision about graduation, keep in mind the magic number: 18. When children turn 18, they will usually want to become independent. This is a good thing, because we have worked our entire life to create independent, confident, capable young adults. The problem is that an independent, confident, capable young adult may not want to be homeschooled by Mommy. That can result in stress and difficulty at home, with even the most pleasant and compliant child. Without the agreement of the child, it may not be possible to homeschool a child over the age of 18 without some angst or drama at home.
I hope that helps! Remember, if you ever need some support, I'm happy to help! You can join the
Gold Care Club
, you can call me so we can discuss your worries or concerns.