Do you ever wonder about things?  I was one of those moms that would worry and fret about LOTS of things.  Wonder what would happen if you homeschooled through high school?


What if you homeschooled independently?


What would you do about grades?


What about college?


Would colleges accept grades given by mommy?


If you homeschool through high school, prepare a high school transcript on your home computer, provide mommy grades and kitchen credits, WHAT WILL HAPPEN?
Let's see what happened to Mechelle...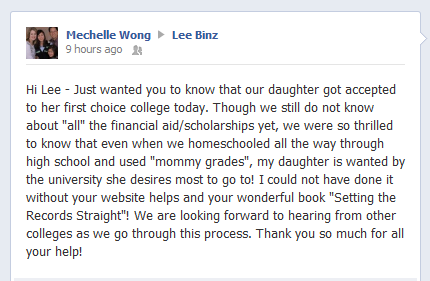 Congratulations Mechelle!  Way to go!
If you have questions about college preparation, homeschooling independently, making grade, calculating credits, or creating your homeschool transcript, I would love to help!  You can join my 
Gold Care Club
 for personal assistance, and my book will help too 
Setting the Records Straight