We Won Best Homeschool Business Blog!
I'm so excited to announce that I have won the Homeschool Blog Awards
Best Curriculum or Business Blog 2009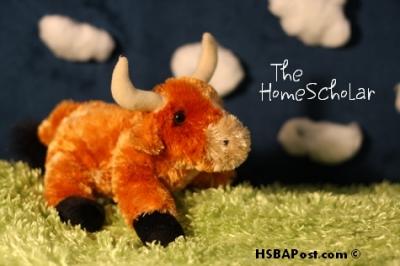 Heather notified me that I had won, and said:
Attached is a Graphic that my children and I made when we did the stuffed animal drawing for the Homeschool Blog Awards. Each blogger was assigned an animal to represent them and we wrote out the prizes on slips of paper and drew for the animals. The kids enjoyed taking photos of the animals and watching mom create graphics. We would love it if you would use the graphic in your post when you get your prizes or just telling about what you won. It would make my kids feel special.
Isn't this a cute little stuffed animal?  I have to admit, it did give my husband and I the giggles, thinking that I was represented by a COW!!!  LOLOL!!!   But it's adorable!    Here are the prizes that I won:
HERE IS WHAT WAS DRAWN FOR YOU:


25$ Amazon Gift Cert


Red River Paper 40$


Patchwork Quilt Tic Tac Toe


20$ in MindBites Lessons


Heart of the Matter Online Homeschool Conference Tickets for 2010


The Old Schoolhouse - 1 Year Magazine Subscription


It was fun to be able to participate, and I'm thrilled to win!  We work very hard on our blog, posting almost every day, and it was so nice to feel supported and encouraged.  Thank you to everyone who voted for us!

I've recently been connecting with friends on LinkedIn.  I invite you to send me an invitation if you want to connect with my business.