Virtual Handout for Twitter Party Participants
I hope that you enjoyed yourself this afternoon! I would love to hear what you thought. And, would you like to do this again?
Here are some bonus links and materials for you to compliment the discussion that we had today about homeschooling high school. As always, you can find more
freebies
and
articles
on my website. Don't forget to search the blog for answers also!
Thanks for joining me!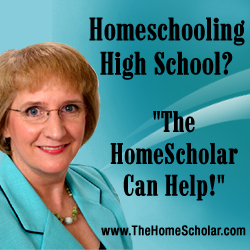 Articles:
Homeschool Accreditation: Don't Ask, Don't Tell!
Four Homeschool High School Advantages

Webinar:
Homeschooling - How and Why it Works! with Jay Wile

Video:
How Do You Know You Can Homeschool High School?

Statistics:
HSLDA

Use your coupon code here:
The HomeScholar Store