Have you ever wondered about the difference between an "accredited" and an "official" homeschool transcript?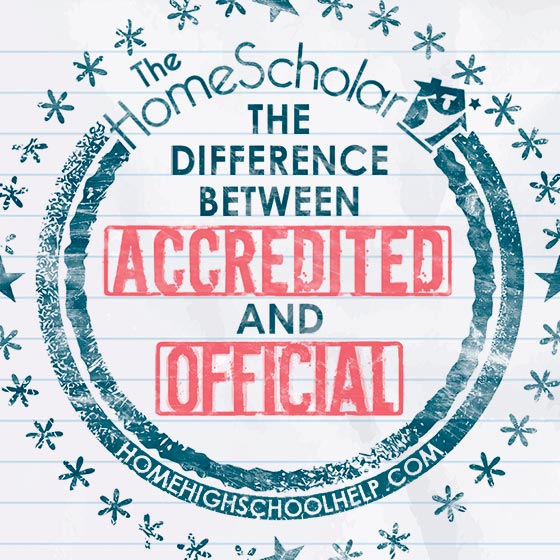 Sally discovered that her son could play on a private school baseball team - IF he entered that school's Independent Study program. The school says he needed an accredited transcript from his 9th grade year to prove that he was in the 10th grade this year. She was under the impression that his work was accredited basically by her. The school disagreed and said that could review his transcript from last year for $50 per credit hour.
Sally asked: "What does accreditation mean? How does a homeschool student get
"accredited" transcripts without paying $300-400?"

Sally,
There is a difference between an "accredited" and an "official" homeschool transcripts. Homeschool credits are official, and our transcripts are official. Homeschool transcripts are usually NOT accredited, however. Accredited transcripts are provided by certified programs, which independent homeschoolers aren't. (Please note: a certified program is not necessarily better than your homeschool program.) So the school is correct, our homeschool credits are simply not accredited. Our homeschool credits ARE official - just not accredited.

There are other programs that can accredit your transcript. North Atlantic Regional High School (NARHS), Family Academy, Clonlara.... and others I'm sure. They are usually about $50-$100 per credit. It adds up quickly, and it can be VERY expensive in the long run. At one point I calculated that a whole 4-year high school would be $2000-$5000 just for a piece of paper that says "accredited." It wasn't worth it to me and apparently didn't matter too much to the colleges. They gave us two four-year full tuition scholarships based on my "mommy-made" official transcripts. The accreditation agencies make a lot of money this way, though.

Accreditation programs generally come with some strings attached. You have to enroll with them, and use their curriculum and programs. Try to find a baseball experience that allows you to homeschool independently, without giving away your flexibility to homeschool your child the way that fits.

Strangely enough, you may have better luck with a baseball team associated with the public school. You can ask them about playing on their team, and see if they will allow you to access that under part-time enrollment, without going to school there at all. I know other homeschoolers have done that, but I don't know much about the process. You can also search for other baseball experiences in your area. Try contacting Run To Win, located in Seattle, and see if they have some suggestions.




When you are applying for colleges, you will need a great homeschool transcript. The good news is you can "do-it-yourself" and save thousands. Discover "The HomeScholar Total Transcript Solution."