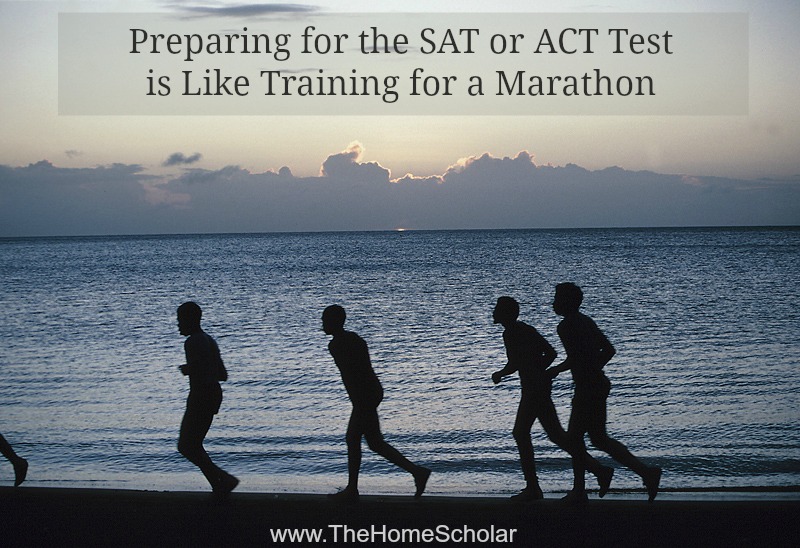 Preparing for the SAT or ACT Test is Like Training for a Marathon.
Figure out which race you can win. Choose between the SAT or ACT test, to see which one makes your child look smarter. Study for just one test. They aren't really the same, and it takes a couple of months to study for one specific test over the other. Studying for both at the same time, especially close to the test date, can be detrimental.
Prepare for running one race at a time.
Help your child study for the test that they are currently planning to take. If you have them practice for the test they are not taking, the preparation will be slightly different, so studying for the opposite test can have an impact on their overall score. To study, spend about 30 minutes at a time, 3 days a week, doing one section of one test each time. It works great! If you do that consistently, you can raise your child's score dramatically. Remember to remove some of your normal English class on the days you do test prep, so you don't double up on English hours.
Prepare for the distance.
Both the SAT and ACT test are LONG, and it can sure feel like running a marathon! Besides your regular test preparation, occasionally run a full-length race. About once a month, give a full-length, timed, practice test at home. That will condition your child for endurance. This is the part of your test prep that is preparing your child for the duration of the test. It's extremely beneficial to practice a full length timed test at least once a month - it's like practicing for a marathon; sometimes you just have to practice by running a long distance!
Test Prep resources: