Choose the Correct Curriculum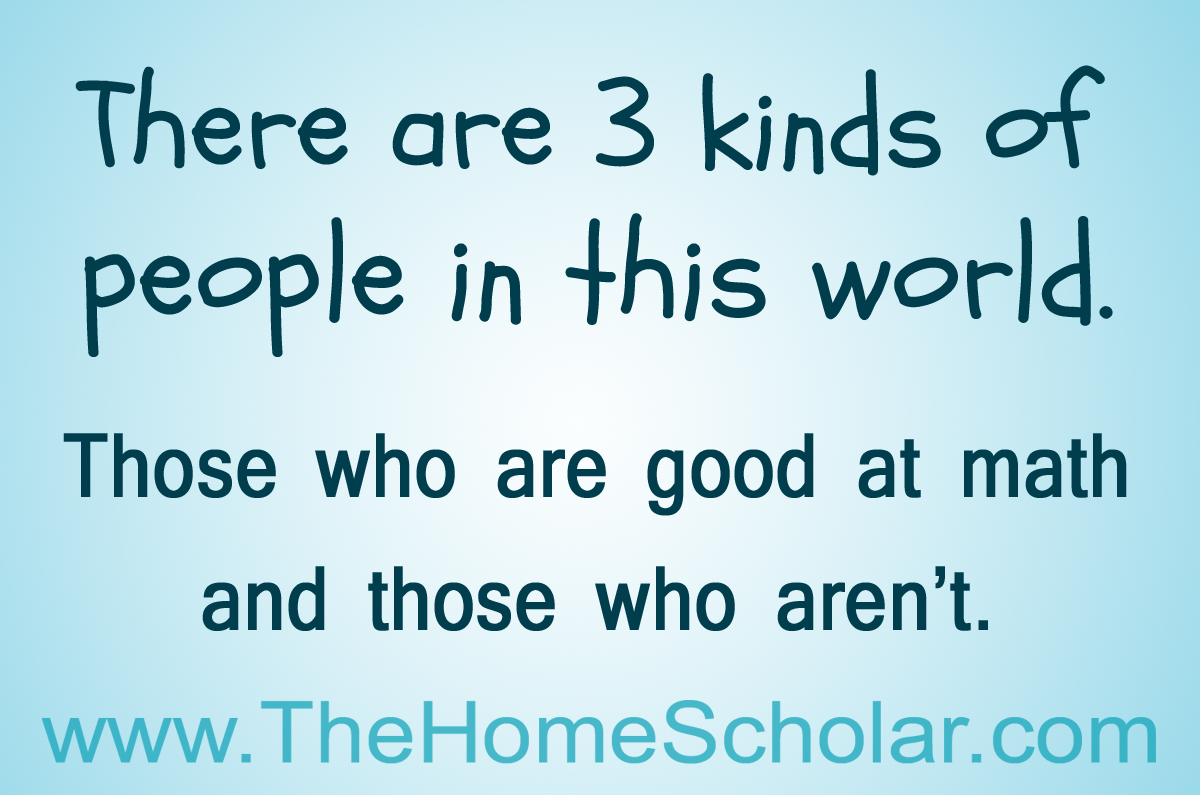 A common question between homeschoolers is "what math curriculum do you use?"  We all have our preferences, but in the end there isn't really one "best" curriculum for everyone, despite what the sales people may tell you at homeschool conventions.  There's no magic program that will guarantee your child will love math, but there is one key which will at least prevent them from HATING it, and that is to use a curriculum that fits your child.
Here is the bottom line for finding the correct math text. The best curriculum is the one that matches your child's learning style, and doesn't drive them crazy.  Even if your best friend swears by it, even if your most trusted advisor says it's the best math program, if it's not a good fit for your child, it won't work well. The best program is the one that helps your child learn the most.
So how do you find that best-fit curriculum?  When your kids were in elementary school, you probably could just bring home whatever curriculum you thought would be best, and your kids would go along with whatever you chose.  But when kids become teenagers, they start to have personal preferences about a lot of things, and your preferences and learning style may not be the same as theirs.  Sometimes they develop pet peeves and personality quirks that make them dislike a particular book or video, such as a teacher's accent or the use of a white board.  It may not be reasonable or logical, but when you're honest, you'll realize that we all have pet peeves or things that drive us crazy.
To avoid this problem, let your teens have some choice in their curriculum.  Perhaps you can present them with several different options, and let them choose the one they prefer.  You might be surprised by what they choose. When I homeschooled, I was completely shocked at my son's choice of Saxon for math.  I had previously rejected that option.  Personally, I hated the look of it —all print and no pictures—but that's exactly why my son loved it! He likes numbers, and thought pictures just got in the way.  Imagine what would have happened if I had brought home a curriculum that I liked, based on my preferences, with lots of photos and colors! He would have hated it, and might have ended up hating math, and thinking it just wasn't for him.
In addition to finding a curriculum that fits your child, make sure that it is intended for homeschoolers. You don't want to use a curriculum that assumes you have a thorough understanding of differential equations if you don't even know what that is, right? Homeschool curriculum will not assume that a math major is teaching a classroom.  Instead, they will assume that a parent like you is teaching a child like yours. Video tutorials are always helpful, and 800-numbers are a plus, in case your kids (or you) get stuck. When my kids came up with an answer on a test that didn't match what the answer guide said, I made them call the 800-number to see whether their answer was right before I gave them credit for it!  No matter how much they whined about it.  And they did whine about it.  All. The. Time. True story.
Learn how to homeschool with complete confidence using my DVD,
Preparing to Homeschool High School
.