Note-taking skills can really help your children become successful in college and career. It's a pretty easy class to teach, too!
This post contains affiliate links. If you click and buy I may make a few pennies, but not enough for a latte.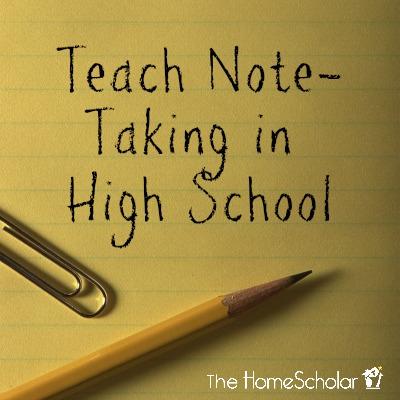 Teach Note-Taking in High School
Teach the Skill

I used the Advanced Communication Series by IEW (Institute for Excellence in Writing.) It contains three DVDs: note taking, essay writing, and public speaking. It's a video geared to the student. My kids watched them twice a year during high school, once when we started school, and once toward then end of our school year as a "reminder." I thought it was very effective!
Practice the Skill

Almost more important than how you teach note-taking, is the practice spent actually taking notes. For practice, we used college lectures from The Teaching Company (which are available at the library or on their website, www.teach12.com) We started with the lecture "How to Listen to and Understand Great Music" and my kids LOVED it! The boys would listen to the college level lecture and take notes in real-time using the concepts they used in the IEW tape. We tried to use college level lectures that my kids were actually interested in, so it wouldn't be over their head. While listening, they would hear the fabulous vocabulary of real college professors, which was an added bonus. You can also practice your skill during church services, or attending lectures in your community.
Collect Credits

A whole school credit means your child spent 120-180 hours on a subject. Spending 60-90 hours on a subject counts as half credit (like a semester course.) Estimate the number of hours you spend learning how to take notes, plus the hours practicing your note-taking skills. You can combine note-taking with other study skills if you want to make a bigger class, or turn a 1/2 credit into a full credit. You might combine note-taking with SAT or ACT preparation, or add additional videos on study skills, like How to Become a SuperStar Student, 2nd Edition. If you need more help with putting these credits on your homeschool transcript, take my free class, "A Homeschool Parent's Guide to Grades, Credits and Transcripts"

Your teens are certain to use these skills sooner or later, either in college or on the job. Have you included note-taking in your homeschool yet?