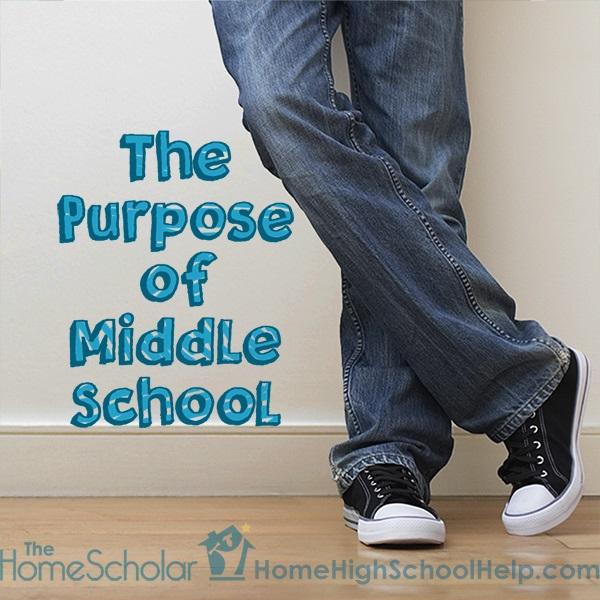 Purpose for Students
Middle school is the pause between elementary school and high school. Children learn at different rates –not just homeschoolers, ALL kids! The pause, middle school, gives slow or reluctant learners time to catch up before high school. At the same time, it gives quick and academically capable children a chance to continue learning at their level. Do you find yourself becoming stressed out over middle school? Read my article, Taming Middle School Anxiety. It's sure to help you and your student calm any anxiety this stage of life brings.

The first purpose of middle school is to give students in need some remedial help. Students below grade level in math can spend time focusing on math. They can use the time to reach grade level. The good news about middle school is that it's impossible for you to be behind. If your child is below grade level, then the purpose of middle school is to help them achieve grade level. You haven't done anything wrong and your child is exactly where they should be.

The second purpose is to give students who are ahead of grade level the chance to keep moving ahead, straight into high school level work. Children completing high school level work competently, using high school level material with good understanding, can obtain early high school credits on their transcripts. Algebra, biology, and foreign language are common high school level classes to teach in the middle school years.

Some children are right at grade level. Not all children require remedial work or are ready for advanced classes. Your child doesn't have to do remedial or high school work; you can have them do remedial work in certain areas, move ahead into high school work in other areas, and remain at grade level for the rest.

Your job is to teach your children at their level in each subject, all the time. Your child might be on grade level for everything but math, or excel in foreign language but suffer in math, with other subjects right on target. The joy of homeschooling is being able to provide for your child's academic needs in EVERY subject.

Middle school is a time for your children to learn something new. They need to learn how to learn, and should become increasingly independent and responsible. You want them to start taking ownership of their own education.

Parents often believe that on the first day of seventh grade their children will become independent and responsible. If you think they will, you're going to be sadly disappointed.

Independence doesn't happen abruptly; it happens in fits and starts. Children will be independent one day, and completely irresponsible the next. You need to be understanding. Like the hormones that affect a young person's mood from day-to-day, the same is true of their independence.

For boys and girls alike, independence and responsibility is not a straight line. It has its ups and downs. It's challenging; as a parent, you never know which kind of child you're going to wake up to in the morning.
...