South Carolina Wins the Wacky GPA Prize!
And the winner is... South Carolina Public Schools! They get the prize for the silliest, most nonsensical grading scale conversion! Do not be fooled - this is NOT a requirement for homeschoolers. This is a public school grading scale, not a reason for more gray hairs, ladies.
My intention is NOT to make fun of a public school system or anything, but let's take a look at it and enjoy a good laugh together for a minute! Don't hyperventilate or panic or anything - this is NOT for you to use!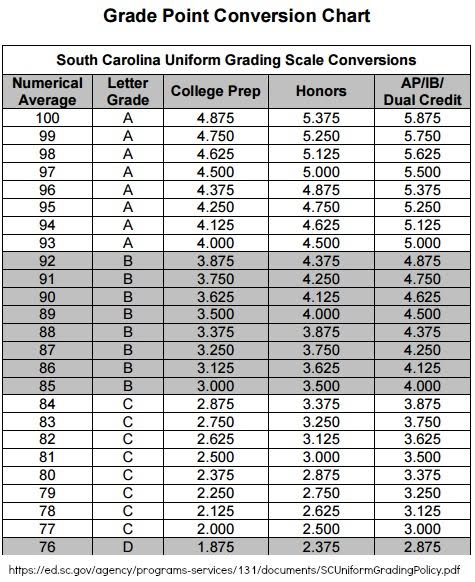 A student could graduate with a perfect 5.875 GPA if they took all AP classes, or all community college classes, but a perfect student, taking only all Honors classes can only earn a 5.375.  But wait, there's more! A perfect student taking all college prep classes would earn a 4.875 GPA.
Of course, few students are perfect. What if your child got a very low B, the lowest possible grade of B, but they were taking all AP classes? Then your child would get the previously perfect 4.0 GPA. I'm serious. A straight B is a 4.0 in this public school system.
"But wait!" you ask. "What happened to earning a perfect 4.0?"
Isn't an A worth a 4.0 anymore? Maybe it is in your neighborhood of the country, but not in South Carolina. And what exactly is the difference between college prep, honors, AP, IB, and dual credit? That's pretty murky...
I declare this grading scale conversion chart to be wacky! You can quote me.
Homeschoolers, do not imitate the worst! Create the best!
Let me repeat myself, you do NOT need to use this grading scale. It's used by public schools who are trying to show the awesome GPA of their average student, by making every child appear above average. Nobody is fooled - least of all colleges. They look at inflated grades and know what they need to do. First, they deflate all grades. Then they see how smart these kids REALLY are.
But you, my fine homeschool friend, do not need to get sucked into the public school system way of thinking. You can choose any grading scale you like. Sure, if you live in South Carolina (or even South Dakota) you could choose to use this scale if you wanted to - but why would you want to? It just makes my palms sweat, thinking about all the math calculations involved in figuring the GPA for a child that is, you know (Heaven forbid!) normal.
Know Your State Homeschool Law
Homeschoolers in South Carolina, and other states, please use a grading scale that fits your independent homeschool. Don't tell your neighbors to use the grading scale that you use, thinking it's one-size-fits-all. In this case, I'm thinking one size won't even fit most. No offense.