Homeschool parents will find the best preparation for the SAT essay is sample essay questions from previous tests.  That's why I recommend the SAT preparation book  called
11 Practice Tests for the SAT & PSAT
.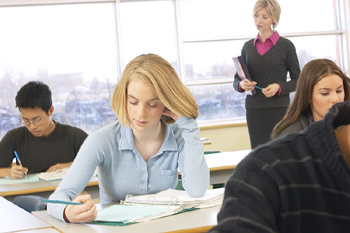 I was wondering if you could help me out with this question.   I can't seem to find specifics in prep books or online.... I've seen suggested in several places  that students should be familiar with a few specific topics that they can use for examples on their essay, e.g., from literature and/or history. I was wondering if there is a preference for one kind of literature over another.  It seems classic literature is an obvious choice, but what about more current, but still highly regarded, literary fiction?  How you seen any information on this?  Or know where I can go looking? Thanks so much,

~ Nancy
The best topic for the essay is any topic the child knows a lot about - leaving your options wide open.  Classical literature, current literature or fiction is fine.  But you can also choose concepts from history, psychology, or science.  It's perfectly acceptable to choose something unique. It is a strength of homeschooling, that kids don't just produce what is expected, but can be more creative.
Although some books will recommend that kids become familiar with a few topics, which means, of course you begin with a well educated child.  Once they have learned some things about history, literature, and science, they will develop some favorite topics.  Once they develop their favorites, you can choose some general essay material from those subjects.
In my home, my child LOVED American History, and he was particularly knowledgeable about Thomas Jefferson.  When he wrote essays at home, we  were sick of reading about Thomas Jefferson.  We ultimately had to forbid  him from writing another report about Thomas Jefferson, it was that bad!  But when it was time for the SAT, we told him to go for it!  We encouraged him to use Thomas Jefferson as material for illustrations because he knew enough about it to provide an opinion.
Study with real practice tests
. See what kind of questions they ask, and how your child answers them in practice.  Then you will have a better idea of what interests YOUR child has that might fit into the topic of the essays they ask.

Get your homeschool transcript done with my Total Transcript Solution. The best part is I can help you implement it!