The SAT requires a 25 minute hand-written essay.  What about brainstorming, outlining, revising, editing, and proof reading?  It can't all get done in just 25 minutes!
Writing a good essay is an important skill, and it can be frustrating to "teach to the test", but you want your student to be successful at it.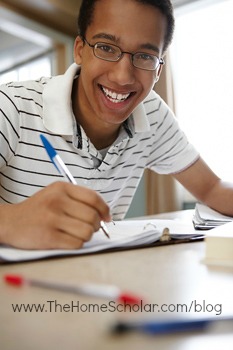 On the other hand, the SAT essay teaches a completely different kind of writing - and it's just as important as a polished paper.
As adults, some of our writing must be edited, proofread, and "perfect."  For us, that could be a newsletter, Christmas letters, letters to the editor, etc.  For children, that kind of paper includes the reports and essays for fun and for school.
The second kind of writing is impromptu writing.  Impromptu writing must be GOOD but it doesn't have to be PERFECT.  That would include a lot of casual business writing, job applications, interview questions, etc.  For kids, the second kind of writing will include essay tests and, AP exams, and the SAT written essay. Often this impromptu writing will include a vary brief pre-writing period, with a minimal outline.
The two kinds of writing are completely different skills.  My sons are glad that they have BOTH skills.  I have been formally THANKED by my children for teach both kinds of writing.
Yes, you want to teach high quality writing with all it's steps and revisions.
And yes, you also want to teach children to write a quick essay.  It's a skill they will use in college and in life.
Do you have any tips for teaching writing?