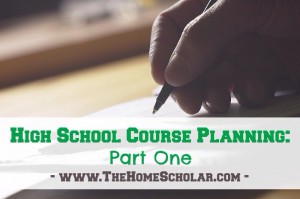 Planning High School Courses: Part One
As a homeschool parent, you know how to educate your children best. You use what you know about your students and their learning styles, and make sure to cover a wide range of academic areas. But when it comes to homeschooling high school, sometimes parents become paralyzed over how to choose courses. What are the subjects that colleges want to see on a high school transcript? How many credits are necessary? How do you teach upper level math when you're not a math major?! Here are some guidelines to help you plan your high school courses and prepare your student for successful college admittance, without changing the way you homeschool!
English
Most colleges like to see four years of English, which you can accomplish in a variety of ways. Your student could study literature and composition through a prepared curriculum, or you could simply have them read and write a lot every year. You could consider a speech class as an alternative. Keep in mind what really matters–ending up with a student who enjoys reading, communicates in writing, and knows how to learn.
Social Studies
Colleges like to see three to four years of social studies. Often colleges will further specify what specific classes they particularly want to see. Usually that will mean world history, American history, American government, and economics. Remember that you aren't confined to choosing the "expected classes" for social studies, either. In our family, one son took a course in Russian History and the other chose Psychology.
Science
Three years of science is expected for college preparation, with at least one of those classes including a lab. Each area of science is so different that a child may really hate one but really love the other, so it's helpful to try to expose them to difference branches of science. You can also try unique subjects: geology, astronomy, computer programming, etc. Colleges love to see unique courses, so don't be afraid to delve into another area of science if your son or daughter is interested.
Fine Arts
Colleges like to see some fine arts in the transcript, but usually one credit will suffice. Fine arts include music, art, theater and dance. My students studied the fine arts through history, using lots of library books. We studied music history by checking out CDs and biographical books on different composers and styles of music.
For further information on planning your child's high school courses, check out
Part 2
and see my
Planning High School Courses Online Training
.

The HomeScholar's Total Transcript Solution will take the fear out of homeschool transcripts!