Our Second Comprehensive Record Solution Review!
On this Thanksgiving, we are so blessed by this review from Annie Kate of the Tea Time With Annie Kate blog.   You can
read her whole review here
, but this was my favorite part!
So far I've enjoyed some of the videos and studied a few of the E-books and documents.  The videos are basically well-organized talks with notes, something that fits well with my learning style.  Lee has a pleasant voice, and it has been a joy to learn from her.  The E-books are clear and thorough, showing in great detail exactly how Lee documented her boys' high school education.  The templates are well-organized and logical, and the prepared course descriptions, as well as the explanations of how to write your own, are thorough and very helpful.

What I like best so far, besides the clear examples and templates, is Lee's assertion that the quickest and easiest path to college admissions and scholarships is to focus on helping the student become the person God created them to be.  She does not advocate a rigid, stressful style of high school at all.  In fact, she says that a big advantage of homeschooling is the opportunity to enjoy life-defining experiences during the school year.   This is our family's style, too.  Although we encourage thorough and rigorous courses, we also allow ample opportunity for exploring personal interests.  Knowing that Lee's philosophy is similar to ours makes me feel more comfortable with her suggestions.

Although I'll post a full review later, I can confidently say that the Comprehensive Record Solution promises to be a helpful, empowering, and calming influence for those who are educating their teens at home.  I'm sure the investment will pay off handsomely for almost every homeschooling family that does not have transcripts, records, and portfolios completely under control…and maybe even for some that do.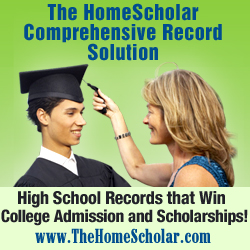 Launch is just a few days away!  There is still time to
enter our blog contest
to win a free copy of the Comprehensive Record Solution.  You can also
sign up for our free launch webinar
, which will reveal the secrets of creating  amazing homeschool records that will cause the colleges to sit up and take notice.  You can also view the
series of videos on our blog
.  Finally, you can
read our entire offer here.
You are going to love this product!

PS.  I want to wish you and your family a wonderful and warm Thanksgiving.  Enjoy!!