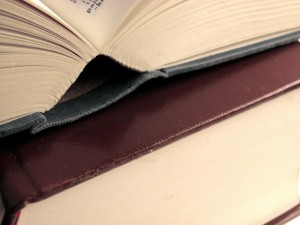 Progeny Press, Easy Grammar, Strunk and White - when you mix and match within a subject area, how many credits should it be?
If you are using two completely unique, completely credit-measured classes, then I would feel comfortable calling it two separate credits.  For example, one year I did Sonlight Language Arts PLUS  we did Learn to Write the Novel Way, so we did have two English credit that year. (We also nearly died trying, but that's another story.... I just DO NOT recommend doubling up that way!)  Another year we did Power Glide French AND Latin Road for foreign language.  So I knew that was two credits.
If you are not using two whole credit curricula, then I suggest you assume it's like a math textbook, and that it's just taking more stuff to teach your children.  When I taught math, I used Saxon, but I added the DIVE Cd's and I added some math games, and I added some Teaching Company college lectures.  All together it took perhaps 2-1/2 hours a day (lot of problems in those upper level Saxon books - plus my son took FOREVER on them).  Still, it was just one credit.  So if you are pulling together things from pieces, I would consider each subject to be it's own single credit.
And can I give a little advice?  I have learned the hard way (VERY HARD way) that it's best to avoid duplicating a subject.  Make sure you aren't piling it on in one subject, particularly in a subject area that is a weak area for your student.  Piling it on is one subject can cause burn-out, but piling it on in a weak area can can frustration and rebellion, which is even worse.