ABC reports the secret to a better score on the SAT:  write more.  It's an interesting theory.  I believe it has merit.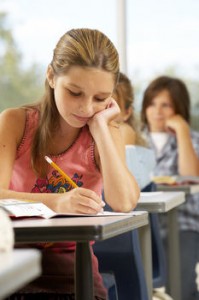 My own son knows that his own SAT essay had factual errors. When he left the test, he was so frustrated because he had mixed up his historical characters and cited the wrong president for a particular event.  He knew he had written it wrong.  He was convinced he would receive a poor score.  When we got the test results, we found he actually received a perfect score.  Perfect.  With factual errors.  And yes, his essay was long.
The
College Board®
responds to these concerns with this statement to the press.  "It's very common for longer writing samples to more effectively convey nuanced, persuasive arguments ... received higher SAT essay scores by thoroughly explaining their points of view."    Instead of disputing the results, this statement seems to confirm the theory.  More nuanced = more explanation = longer.  Thoroughly explaining = more words and more description = longer.  Yes, if you use more words, sooner or later you'll end up covering more points that explain your essay.
It's true they are also grading on conventional English skills of spelling, vocabulary, sentence structure, and essay composition.  Still, length clearly plays a role in the score.
A longer essay on the SAT will probably get a higher score.  To achieve that result, teach your children to write quickly and legibly.  Practiced timed essays at home, so they know exactly how much they can write in 25 minutes.
Here is more information from the original news reports:
Watch the news report:
The Secret Behind a Better SAT Score?
Read the ABC news article:
Has Teen Unlocked the Secret to a Better SAT Score?

I am the Seattle Homeschool Examiner.  You can read my homeschool articles here.