The best letters of recommendation will come from someone who knows a child well and who also writes well.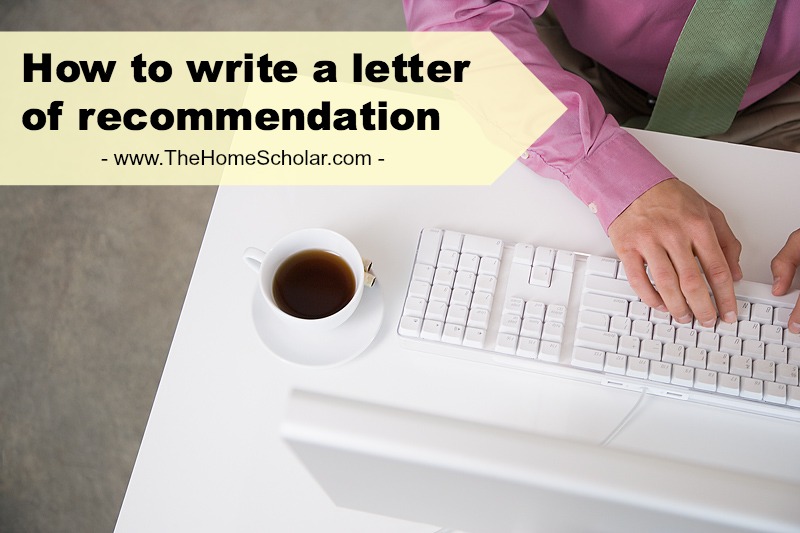 Usually these letters are from someone outside the home - not mother or father. It's best if the recommender can speak to the academic qualifications, character and maturity of the student.
There are times when a parent will need to write a letter of recommendation, or the recommender is confused about how to write a letter.  Here is a general outline for a letter of recommendation.
Recommender's name
Recommender's address
Today's date

Dear College Name (OR To Whom it May Concern)

Paragraph One will identify the student, and describe how the recommender has come to know the student.

Paragraph two is specific evidence of character traits that the recommender has learned from contact with the student. Include knowledge, maturity, or any project or job completed.

Paragraph three is about work skills in general that the student has displayed.

Paragraph four is where it actually states "I highly recommend…" It's best to use strong and specific language with a clear, bold recommendation.

Sincerely,
Recommender's Signature
Recommender's Typed full name
Recommender's Title or position
The recommender will have to physically sign the letter and mail it directly to the college or organization that needs the information. Parents don't usually see the letter that is mailed.
When letters of recommendation are required, look carefully at the details of the request.  A college may have specific requirements for a letter of recommendation, like "in a sealed signed envelope" or "mail separately" or something.