Learning Leadership: Great List of Leadership Books for Teens
This post contains affiliate links. If you click and buy I may make a few pennies, but not enough for a latte.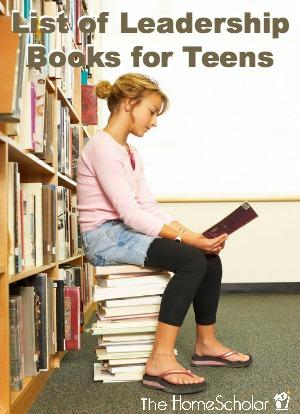 Leadership is something you learn by doing. Become good at something, do it often for fun, and pretty soon you'll be leading others as they do it, too. The next thing you know, you're leading! Leadership is also something you can learn by reading about it. Read about leadership and about examples of good leaders, to become knowledgeable and skillful; then act on that wisdom as you lead others.

Leadership can be a subject you teach in your homeschool. Your class in "Leadership Studies" can include reading leadership books for teens, as well as leadership experiences or public speaking.

Here's a list of my favorite leadership books for teens that we have read or used. Check them out to see if they are a good fit for your family.
Here's an even longer reading list that should be seen by all college-bound teens. Click to download my best ideas: The HomeScholar College Bound Reading List

These are some leadership books for teens suggested by my friends. I've heard some great reports about these books!

What are your favorite leadership books for teens, to encourage leadership in young people? Please share your opinion of these books and others in the comments!