Hi everyone,
I wanted to take a moment to wish you all a happy new year and give you a brief report on 2009 and a quick look ahead to 2010.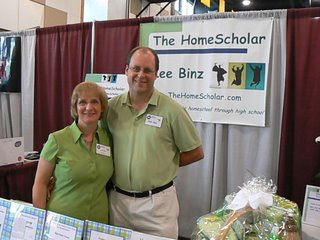 2009 has been amazing for us.  Not only did it bring the announcement of my eldest son's engagement (Yea!!!) but we have also seen tremendous growth in the reach of our business.  Here are a few stunning tidbits:


Newsletter membership up 120%


Blog subscriptions up 163%


Web traffic up 296%


Blog traffic up 43%


Number of nations reached up 43%


2010 promises to be a very exciting one for us as well.  Both boys will be graduating from Seattle Pacific University in June and we are excited to see them off on their next stage of life.  Our normal summer convention season will be shortcut a bit due to graduation and wedding plans!!  We do hope to meet a number of you in Cincinnati in April.  Please stop by my booth or come to my talk and introduce yourself.  This is our first time to this convention and we are very happy!
In 2010 we are planning a number of "big events."  First will be the release of my first "published" book, "
Setting the Records Straight -- How to Craft Homeschool Transcripts and Course Descriptions for College Admission and Scholarships
."  We are hoping to have this ready in February.
Second, we will be the launch of our companion Course Description information product.  Along with the book, this information product has consumed us for a number of months.  We are very happy to be making strong progress on it.
These are the major projects we have in work right now.  Of course, a lot depends on wedding plans so I am grateful for your patience!
That is all for now, I am in the midst of baking LOTS of cookies for my son's engagement party tomorrow.  19 people in our tiny living room!!  Yikes!!

Our January newsletter comes out tomorrow.  I will be addressing a very important topic to homeschoolers - Teenage Motivation!  It has been a hot topic on Facebook for the last few days and yesterday we had a huge jump in newsletter subscriptions.  Something tells me this is a BIG deal!  You can sign up for our free monthly newsletter here.