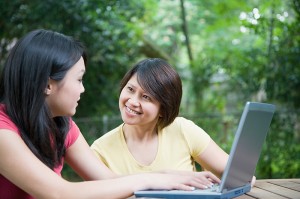 In our family's homeschool experience, it seemed that colleges asked for some pretty strange things when our sons applied for admission.  One college asked for their transcripts in a sealed envelope, signed on the outside by the principal (my husband).  Another asked for transcripts from a 'recognized homeschool agency' (what is that?!).   A lot of colleges, though, want samples of a student's homeschool work, and this at least is a reasonable and quite common request.  In order to prepare for this possibility, I set a goal to have at least one sample of work for every subject that I taught. Everything that my sons produced paper-wise, such as tests, quizzes, and work samples, I kept a copy of.
Of course, the problem is that you don't really know in advance what colleges are going to ask you for. We did have a college that wanted a graded English paper, and another college that wanted math in my student's handwriting, so it's hard to know what they're going to ask for. I think the easiest way is to be prepared by having a sample from everything.  That doesn't mean that you have to have a sample from all four years of high school. If you haven't kept anything so far, and your child is going to be a senior next year, just start keeping things from now on and you should be covered.

Subscribe to my YouTube channel.  You'll  get notified when I create new videos on homeschool high school topics!