What is YOUR Homeschool like?  What time did you have lunch today?!  Check out this interesting article, "Overcrowding At Queens School To Force 8th Graders Into 9:45 A.M. Lunch" at the CBS Local News website.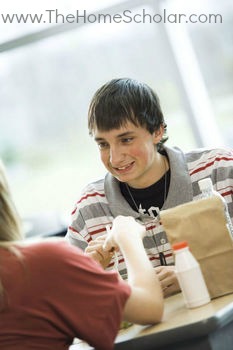 Where did your children "do school" today?
 East-central Illinois homeschool families have formed a community. "Some children will sit around the dining room table for daily lessons, while others will read on the backyard trampoline. A typical day may start with breakfast and Bible study as a family or be a mixture of schoolwork and a part-time job spread throughout the day."  Read the whole Republic article 
here
.
Do your children read challenging books?
   According to an article in the 
Huffington Post
, American high school students are reading books at 5th-grade-appropriate levels! "Teachers, parents, and students need to work together to ensure that students are reading far more challenging books and practicing every year reading more demanding text. Students will not likely choose sufficiently challenging text on their own; they need to be challenged and supported to build their strength as readers by stretching to the next level."
Why is homeschooling a good choice for you?
 The 
New Jersey Times
 says that "Homeschooling has become a viable option for parents; here's why that's not a bad thing."
Feel free to share your opinions or feelings on my blog!

Subscribe to my
YouTube channel
.
You'll be notified when I create great new videos on homeschool high school topics!