How to Document Audited Classes on a Homeschool Transcript
How to Document Audited Classes on a Homeschool Transcript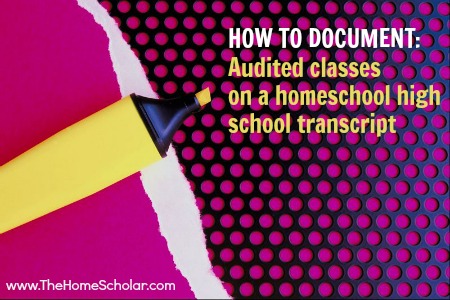 If your child is taking a class at a public school or private school, then I encourage you to list the school and the class on the transcript the same way it would be listed for other students.  Create an acronym for the name of the school. Here is a breakdown of what I mean:


You might use the acronym LHS for Lutheran High School.


Your class title might be LHS: Religion and Worldview.


If the school has class about 2-3 hours a week all year long, then it's a 1/2 credit class.


 If they call it a "semester class" then it's a 1/2 credit class.


If the class is in session about 5 days a week all year, then it is a 1 credit class.


When you are taking a school class for credit, then you must use the grade they provide.  Their B is the B you put on your homeschool transcript by that class.  But if you are simply attending the class without receiving credit, or just auditing the class, then you won't receive a grade.  In that case, you can choose to put "AU" for audited, in place of the grade and the credit.  If you do that, then clarify what the acronym means, and at the bottom of the transcript write "AU indicated classes take Lutheran High School for audit. No grade or credit given."