How many ways can you say "I love you" today? Share your ideas in the comments!  Here are some things that I thought of.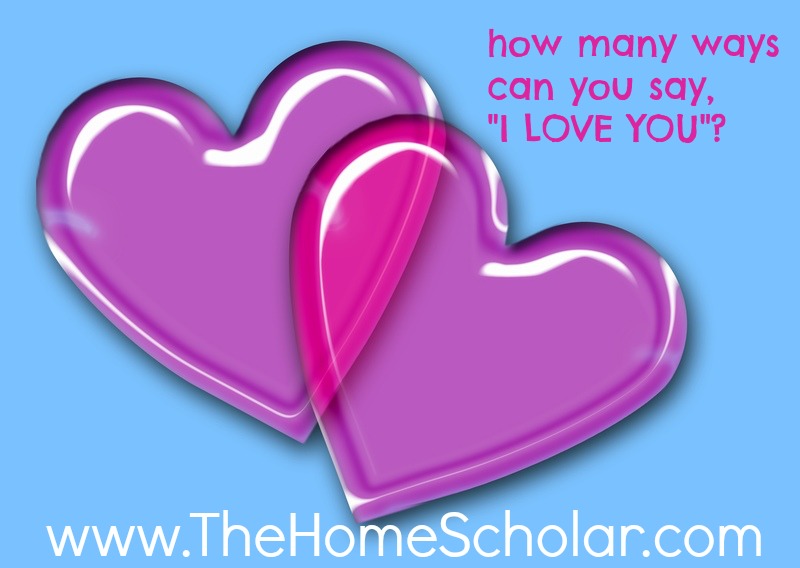 Make a special dinner
Heart Shaped Meals for Valentine's Day!
Plant a big kiss
Create Giant Hershey's Kisses
 made with Rice Krispie Treats and funnels
Give tiny gifts to show your kids you love them.  You can give gifts of food or toys and create a tag that ties it into a Valentine's theme.  Here are some ideas!
Give a bouncy ball
"Have a Ball this Valentine's Day
You Make My Heart Bounce"
Give Hot Wheels cars
"You Make My Heart Race"
Give crayons
"Have a Colorful Valentine's Day"
Give ingredients to make s'mores
"I Love You S'More Each Day"
"The World Needs S'More Friends Like You"
Give "Cutie" tangerines
"I Think You are a Cutie"
Give cocoa mix
"You Warm My Heart"
Give a pen or pencil
"You're Just Write for Me"
"I Think You Are Just Write"
"Write On, Valentine!"
Give glowsticks
"You Make My Heart Glow"
For links to these and more fun Valentine's Day Ideas, follow Pinterest Boards, helping homeschoolers have fun during the Valentine's Day candy-hearts frenzy!
Valentine's Day Board
While we're  on the topic of social media: I'd love to be friends with you on
twitter
as well as pinterest!