Homeschoolers with Unique Learning Styles? It's All Good Learning!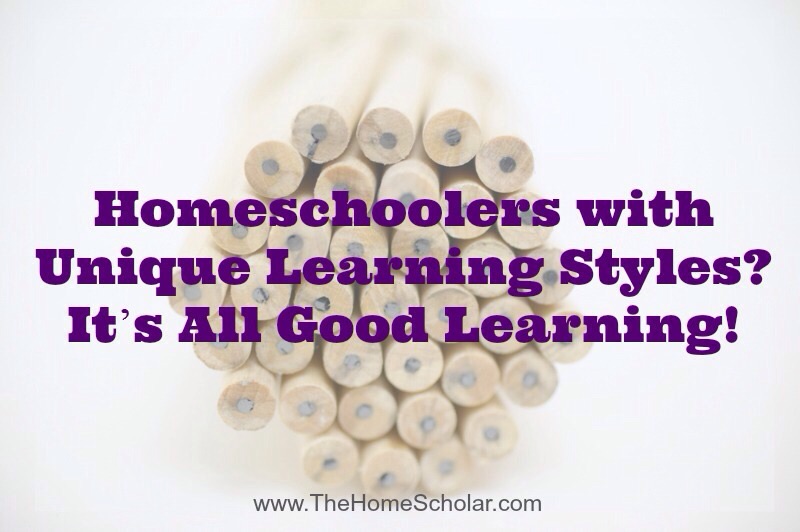 Homeschoolers with Unique Learning Styles? It's All Good Learning!
There are a million great ways to homeschool. The best way is the one that fits your children's unique learning styles. Not everyone learns the same way. The challenge is to find the way that will help YOUR child learn. Here is what Carol says about her daughter's graduation.
My daughter Sarah was homeschooled from 1st grade to her high school graduation in May 2011. It was one of the joys of my life to homeschool her. She's a lot of fun to have around and always laughs at my jokes. I'm going to miss her when she heads off to college in the fall.

Sarah learned differently from me, my husband and my older daughter. She is very visual and I had to adapt to her style of learning. I remember thinking she would never learn her multiplication tables. We drilled, did timed tests, bought cute computer games, but she still struggled until I bought a book with funny cartoons and a story of the multiplication facts. That clicked with Sarah! I asked her, "Isn't it easier to just memorize the facts than to remember the cartoon and story?" "Not to me!" she replied. That's when I realized this daughter learned differently!

Sarah discovered a love of photography in early high school and started a micro business doing senior pictures. She will be majoring in Media Communications at Taylor University in Indiana. I'm very proud of her and I look forward to what she will learn in her next phase of life and where her skills, talents and education will take her! Sure, I'll miss her, but how can I be sad, when she is so happy to start the next phase of her life?

Carol Topp
MicroBusinessForTeens.com




Don't worry about having your child learn the same way as everyone else. Focus on getting your child to LEARN. That's the skill that will last a lifetime and determine success in college. If you are stuck and don't know how to begin determine children's unique learning styles, Cynthia Tobias'
The Way They Learn
may be helpful.

Please note: This post was originally published in June 2011 and has been revamped and updated for accuracy and comprehensiveness.
If you need any extra help, you will appreciate my Gold Care Club, with templates and tools that will help you along.