All the military academies accept homeschoolers, and homeschoolers are on completely equal footing with every other applicant.  The academic preparation for a military academy is actually the easy part.  It's the extracurricular, leadership and physical fitness aspects of preparation that are much more difficult to achieve!  It's completely possible if you have the right kind of child.  I have a local homeschool friend and her son was recently admitted to an academy -
REAL homeschoolers REALLY do get in.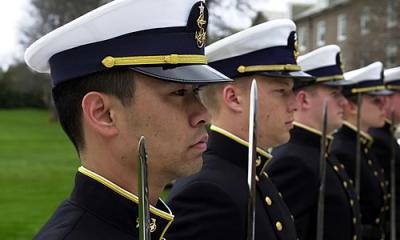 They will ask you to give a "list of courses with materials used."  That means they want very detailed course descriptions.  If you want an example, that is why I published my book, the "
Setting the Records Straight
."   Consider it a template for creating your own very impressive records.
Military academies also want to see a reading list.  "Setting the Records Straight" also includes
our homeschool reading list
, so you can see what that looks like and how it fits within the whole package of course descriptions.  The reading list includes ALL the books that the student reads.  Books for school, books for pleasure, Christian books, classics, fluff pieces.  It's actually important to have a good mix of classics AND current literature.  I have heard some colleges complain that homeschoolers only read the classics and don't seem to have enough popular literature.  This can make them look a bit artificial.  The reading list is just a LIST, not a bibliography.  It just needs to have the title and author of each book.
It can help your chances of success if you meet with the Military Academies early in high school.  Visit their booth at a college fair, and ask detailed information about preparation and what they require.  You'll be amazed, because homeschooling will be the very least of your worries, and the easiest part of the process!