It was such a thrill to see a raccoon family in my backyard!  I had so much fun watching them!  After a while, though, I realized that the raccoon and I had something in common.  We both homeschool.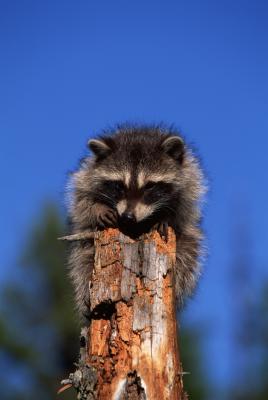 As I was watching, the raccoon mother was carefully explaining the ways of the world to her almost adult-sized child.  She was teaching him to crawl up and down the fence, so he could run along the fence like you and I scurry along the highway.   Without any government programs, she was managing to teach her young.
The raccoon son was not convinced that going up a fence was a good idea, and he was terrified of falling.  She kept calling and calling, but he wouldn't jump down from the 5 foot fence.  Finally she picked him up by the teeth, and carried him down by the scruff of the neck.  Immediately she jumped back up on the fence, calling him to climb up again.  Over and over they practiced.  Then she took him to the bush closer to my house, to practice climbing up and down from the fence using bush branches for a ladder.  That's when I heard the teenager complain.  I have to tell you, that young raccoon was NOT happy with his mother!  He was yelling at her.  She was calmly chirping encouragement, trying to get him to climb down the branches.  And he was barking at her loudly, his voice cracking like a teenage boys.  He did NOT want to risk the fall.  She finally convinced him to come down.  I think he only agreed because he didn't want to be left behind.  The sauntered down the garden path, mom all quick and calm, with her son barking at her the whole way.  I could hear him complaining all the way to the end of my driveway.
I don't want you to get the wrong idea about my kids, but I could so completely relate to the mother raccoon!  She taught her child an important skill (without being accredited, by the way.)  He learned how to get up and down a fence.  But it was a thankless task.  Instead of being grateful, the child complained the whole time!  I'm not mentioning any names, but it's quite possible that some people in my family complained from time to time.  But guess what?  They are 19 and 21 years old now, and we ALL have some 20/20 hindsight (that could be why it it called "20/20 hindsight" - you need to be about 20 years old before you get it!)  My children have both told me how incredibly thankful they are!  They are thankful they homeschooled, and even thankful for the things I made them do, even when they complained.
Keep up the good work, parents.  When your children get that 20/20 hindsight and say thanks, will you let me know?  Other parents deserve to know that "thanks" are on the way.

Check out my new profile on The Old Schoolhouse's Speakers Bureau, and then ask your conference coordinator to invite me to come speak to your conference in 2010!