Homeschool Lessons from Nature:  Teen feelings are like mole hills, they pop up when you least expect it.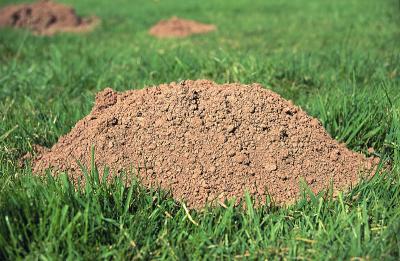 This has been the most frustrating summer for my front yard!  One day there was a mole hill.  A few days later there were 7.  When we arrived at the magic number of 40 mole hills, we stopped counting.  We have tried everything.  It's not that I don't like the moles...  it's just that the mole hills are so inconvenient!  I leave the mole hills undisturbed when they are in my flower beds, and the brown mound blends in with the brown bark.  But boy, oh boy!  When those brown hills infect my should-be golf-course green grass, I start seeing red!
Do you know what I have noticed?  These dumb moles don't respect fences, shrubbery, or landscaping.  They don't care where property lines are drawn.  They pop up anywhere without warning - and sometimes they are HUGE.
Teenage emotions are very similar.  The poor teens are only doing what is natural.  They are cauldrons of hormone-laced emotions, and sometimes it spills out.  It may be a terse word, an unpleasant tone or look.  It could be a feeling or frustration, or just an experience the teenager needs to talk about.
While normal, these emotions can be as difficult to deal with as molehills in the yard.  You don't know when they will pop up, and you don't know which direction they will go.  All you really know is that the emotions are there, and you have to deal with them.
One of the best thing about homeschooling is that you are physically in the proximity of your children.  When they have a feeling, concern, or worry that spills out, a parent is there.  Instead of their feelings spilling out into space, they are spilled out onto us.  I'm the first to admit that spilled emotions are messy, but have you considered the alternative?  I mean, because we are with our children, we can talk about their feelings and issues.  We can know what's going on and respond to things.
I'm thankful that teen feelings are like mole hills.  I'm thankful that their emotions could pop up when I was around to help them, and learn with them.  I remember it could be pretty inconvenient that the feelings popped up suddenly and without much warning, though.
I'm thankful I was there for my children when they were growing up.  But I still wish I didn't have moles in my front yard!

That free month on the Gold Care Club that you get with the purchase of my e-book on transcripts can be your time to get some great homeschool high school parent training!  You even get 20 minutes of free phone consultation each week!  We can even talk about your teenagers emotions!
If you want the Gold Care Club without the e-book you can get it here!