Homeschool High School: Choosing Grading Scales
You can use ANY grading scale you are comfortable with, truly!  Here are a few standard scales to choose from, but every public, private, and homeschool teacher gets to choose their own.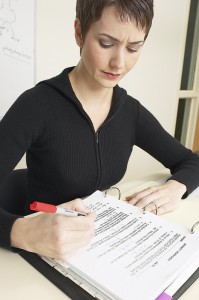 Remember: Grading Scales Vary
Donna Young at www.donnayoung.org

SO Complicated

93-100% = A+, 93-100% = A, 90-92% = A-, 87-89% = B+, 83-86% = B, 80-82% = B-,77-79% = C+, 73-76% = C, 70-72% = C-, 67-69% = D+, 63-66% = D, 60-62% = D-, <60% = F.

Laurie Callihan:  from Guidance Manual for the Christian Homeschool

SO Simple

A=4.0, B=3, C=2, D=1, F=0

Cathy Duffy's Curriculum Manual for Junior/Senior High gives you a choice of two scales

I used this one

93-100% = A, 85-92% = B, 75-84% = C, 70-74% = D, Below 70% = F

90-100% = A, 80-89% = B, 70-79% = C, 60-69% = D, Below 60% = F   
If you can't decide, just print this page and post it on your wall.  Throw a dart at the page.  The grading scale closest to the dart is the lucky winner!  That grading scale is *obviously* the grading scale that the Lord wants you to use, right?
For homes without darts, I have heard that throwing al dente spaghetti noodles will also do the trick!

I have created a series of videos on creating great homeschool records for college.  You can find them here.