I loved reading a
news story about a local golfer
playing in national tournaments.   It's just always fun to read about homeschoolers!
Spencer, who is home schooled, admits he's got plenty of growing up to do. He has to fight the urge to slam a club into the turf when a shot doesn't follow the planned trajectory.  "He's a perfectionist," his father observed.
Seattle Times "Local golfer, 10, is hitting it big"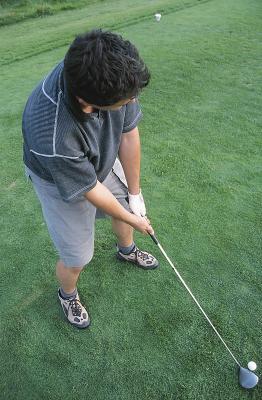 But it wasn't the lovely column that made me start laughing.  It was this comment from the father:
Steve Tibbits enjoys watching golf but said he hasn't played much and never played well.  "I'm just so bad at it, it's frustrating to me," the elder Tibbits said.
That comment reminded me SO much of my experience with my son and his love of Chess!  You know, I was consulting with a mother today who made a comment about how her children didn't have a cool interest like my children in chess, but her son was merely interested in boring old computers.  I wonder if Mr. Tibbets ever wishes his son would have a different interest other than golf?
I will say, it does seem like the Lord's sense of humor sometimes.  The things our children love can be the most frustrating an annoying to parents.  Have you read my article called "
Use Your Annoy-O-Meter Skillfully
"?  I almost called it "The Joy of Annoyance" but I was too frustrated to feel joyful about it.
Here are some take-aways:


If you are annoyed, welcome to the club.


Specialization doesn't always appear heaven-sent


The specialization-grass always looks greener in some other parent's yard



Are you ready to get serious about homeschooling high school?  Send me an email and let's talk!