Heart Shaped Meals for Valentine's Day!

My kids think I'm crazy, but I've always celebrated Valentine's Day with pink, red, and heart-shaped food.  I'm not usually a very crafty person, but I love to create food surprises on the holidays.
Breakfast:
Pancakes made in a heart shape.  It's remarkably easy to do, just make a "V" with the batter. Other alternatives include oatmeal with a drizzle of red-raspberry syrup in the shape of a heart.
Lunch:
Heart shaped sandwiches, of course! Save the extra bread to make bread crumbs - you know you needed more bread crumbs anyway! Serve with red jello salad.
Dinner:
Heart-shaped meatloaf with red tomato sauce on top. Or consider this - ham is pink!  You could cut out heart-shaped ham slices!  Cut potatoes with a heart-shaped cookie cutters to create heart-shaped French fries. Make biscuits in a heart shape.  Cut a sweet red pepper in just the right way, and get the shape of a heart - great garnish for green salad. My kids love Strawberry Soup, and it's a naturally pink color.
Dessert:
There are the usual heart-shaped cookies, of course, and I have heart-shaped cupcake pans so that I can make individual heart cakes.  Without a pan, just bake one square and one round cake.  Cut the round cake in two, and place each flat half on one side of the square cake to make a heart-shaped cake without the investment.
Strawberry Soup
Ingredients:
1 bag, 20 oz. frozen strawberries
1/2 cup milk
1/2 cup plain yogurt
1/4 cup sugar (or substitute)
1/8 teaspoon  vanilla
Puree all ingredients in a blender, and pour into a serving bowl.  Cover and chill 2 hours or more.  Garnish with fresh mint leaves.
Here some pictures of a recent Valentine's dinner with my son and wonderful daughter in law.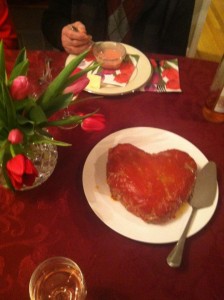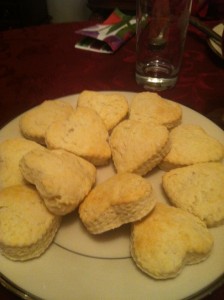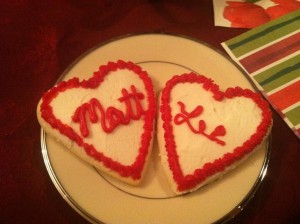 Happy Valentine's Day!!!