Every month, my Gold Care Club has completely new and fresh information. I change the classes each month, provide a live webinar, and locate and compile new resources.  This month I added a new feature I call  Resource Packs.  It's a new feature that includes a grouping of resources around a specific topic.  For example, this month our Resource Pack is "Help for Planning Courses." I hope that each month a new Resource Pack will provide much needed and timely information. This section will change and include new information each month, so everyone can find the help they need for their own situation. I hope my Gold Care Club members will enjoy it!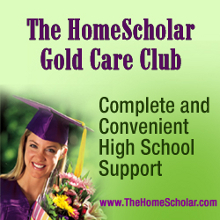 In case you are interested, this is what is on the Gold Care Club this month:
How to Training Classes
Last Month's Webinar: Finding the Faith Part 2
Quick Start: Christian Homeschool Success in High School
Beginner: Preparing to Homeschool High School - Hour 1 of 4 Intermediate: Find the Perfect College
Advanced: College Scholarships for High School Credit
Encouragement: Dad's Corner
Tools and Resources
Course Description: Biology
Resource Pack: Help for Planning Courses
Schedule of the Month: School Day Schedule with Chores
Ebook of the Month: Affording Christian College
2 New Extended Answers: Specialization & Motivation
2 New Biggest Questions: Multiple Choice / Pushing Too Hard?
March Newsletter: Planning Courses for Freedom, Fun, and Success!
Upcoming Webinar
Preparing to Homeschool High School - Part 1
Thursday, April 5, 2012
5:00 - 6:00 PM Pacific
The webinar provides information AND personal attention, with lots of time for questions. The
Gold Care Club
webinar is intended to strengthen and encourage you.  Whether you are just beginning to think about high school, or you are looking for a review, this can help you prepare for your first years of homeschooling high school.  In this class you will learn why you have no reason to be afraid of homeschooling at the high school level.  You will learn key strategies for success that you can use with all of your children at any age.  You'll also learn exactly what subjects are required at the high school level.  Come and learn how to "always be prepared" for anything that comes your way!  Learn to homeschool high school with confidence so your child is ready to meet the world head on!
For those who have seen the live version of this webinar previously, you will still want to join us.  In addition to updated content, this is your opportunity to get YOUR homeschool questions answered during the extended question and answer period.

PS.  Here's an example of one to the great webinars we feature on the Gold Care Club - Taking the Mystery out of the SAT and ACT, with Andrew Pudewa.