I'm an old fuddy-duddy when it comes to church music.  But still, when a client told me her child didn't play "real music because it was only bluegrass, " I had to object.  Maybe she is a musical fuddy-duddy too, but I think it's helpful to look at God's perspective on music appreciation;
Psalm 144:9-10

I will sing a new song to you, O God;
on the ten-stringed lyre I will make music to you,
to the One who gives victory to kings,
who delivers his servant David from the deadly sword.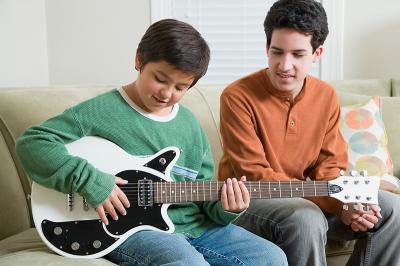 This is a Psalm of David, and David is loved by God.  David sang a new, different, and non-fuddy-duddy song to the Lord.  He used a 10 string lyre - and I can't image that is all too different from a 6 string guitar.  I wonder if David's mother hated his new-fangled music?  I wonder if it drove her crazy?  Was she ever tempted to say "put that thing down!" or "that's NOT real music!"  And yet David is singing this new song to the Lord, who liked it so much he mentioned it in his best-seller (the Bible!)
When your children like music that is different than your music, instead of insisting on the same songs of old, try to shape and mold the experiences with this "new song."   Can your child play their instrument at church?  Churches are often thankful for any musicians they can get!  If your child is playing music for an hour a day or more, even if it is a new song on a ten-stringed electric lyre, then you can give them a high school credit.

I'm updating my Gold Care Club tomorrow.  See what others are saying about it.