Earn College Credit While Homeschooling with CLEP
The College Level Exam Program is a great way to earn college credit while still homeschooling.  Make sure your child can pass the test before you take it.  Then use study tools to get the best score they can.
I was wondering if you had your boys do any of the study tools before they took their CLEP tests.  Josh just took the practice test and only got a 70 percent on History of the United States part I.  So I think we will purchase one of the study tools.  If you did use a tool which one did the boys use?  Thanks for your help again.

~ Loreena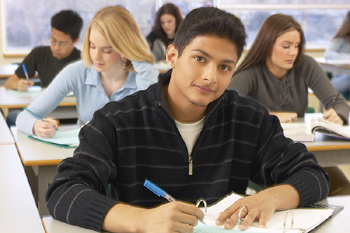 Dear Loreena,
I used the study guides by
REA
.
If you use the CLEP study guides, getting 70% usually corresponds to "roughly" a score of 70 on the test. A score of 50 is average, and the level that most kids receive college credit, so a score of 70 would be FANTASTIC. Still, that is just a rough estimate. So take the knowledge that he will probably pass with what he already knows, and then have him study with the REA guides to improve the score before he takes it for real.
I hope that helps!

Do you Twitter?
Follow me here
!