Discovering Your Child's Giftedness - An Epiphany
Shannon wrote to thank me, and she gave me permission to share her feelings...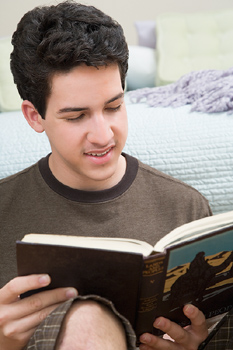 Lee,

I just had to write and thank you for everything! Well, for the  everything consuming my life right now! LOL!

I have had an epiphany lately. Why it took so long I'm not  sure. I have been so focused on my 16 year old and making sure he was ready for graduating high school and set up well to go to the college he wants to go to that I'm ashamed to say I wasn't putting as much focus on my 13 year old. I think I've finally discovered why I've had such frustration with my 13 year old and schooling. We decided to go back to homeschooling because  of issues with him in Middle School and have experienced a lot of those issues since bringing him home. It is getting him to do the daily work. He fights me tooth and nail! He doesn't want to sit and do any of the assignments I give, yet he can spout off information about so many things. I'm always asking him where he heard that or read that piece of knowledge. I'm now starting to get a clue!

When he was in school the teachers commented on how he passes the tests with A's and sometimes B's but his grades were not as good because he wouldn't do the daily work. I've had those same issues as well. *I knew he was very intelligent I just never put the pieces together * to see he was gifted!! How can one be so blind? I realize now, it isn't necessary to do busy work if you already know it!! I'm not challenging him enough because I'm not giving him material more to his level. Ughhh! All this time I've been wasting. Thank you for showing me the light.  I kept thinking that your gifted information really didn't apply to us because I kept focusing on my oldest. But it does apply to us! So, I have ordered your CD about teaching gifted children and look forward to receiving it soon.

By the way, thank you for your assistance with my college fair  questions. Anything you could suggest so I could put the word out about you at the college fair would be good.  I definitely want other homeschoolers here in South Carolina to find out about your services!!

Thanks Again!
Shannon in South Carolina
Later, after listening to the Gifted Education at Home audio course.....
I received your gifted CD.  I am working on my second listen through.  I'm trying to wrap my head around how best to school him now. I'm going to look into the Sonlight Curriculum you talk so highly about. I feel a little lost in this unfamiliar territory. I made the mistake of trying to teach him the way my oldest son and I learn best and that's by being interactive with projects and worksheets with the material. I realize that is misery for Patrick. No wonder why he dreads schoolwork. I'm going to have to look at things in a whole different way!! I'm trying to learn, though.  Thank you for all your wonderful help and advice.

~ Shannon in South Carolina
Remember, God made each of your children unique and what works on one  may not work with the other.  Be open to trying new strategies for each child.

The HomeScholar Gold Care Club will give you the comprehensive help you need to
homeschool high school
.  Remember, the price is increasing on April 4 to $47/month.  You can lock in now at the current price of $27/month.  Don't delay!