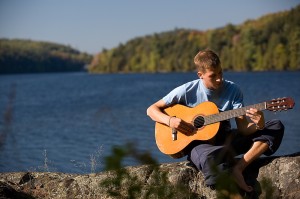 Not everything that homeschoolers study is easy to translate into a high school credit.

What do you do if your child learns best by living, instead of studying textbooks?  What if your child soaks up knowledge like a sponge, without being directed in any way?  Can you still put that activity on a high school transcript?

I once heard a mom say, "My son's interested in something that's not a real academic course - he just loves  mapping the moons of Jupiter." Another mom once told me, "I really need to teach my child music because all he ever does is play bluegrass, and bluegrass isn't real music." I almost laughed out loud!  Bluegrass music is real music, of course, and mapping the moons of Jupiter is astronomy! Both of these students were engaged in what I call "delight directed learning."

Delight directed learning is when a person pursues learning about a topic because they take great delight in it, and not just because it's a required course.

When you're looking for resources, parents have unlimited choices when it comes to delight directed learning.  Make sure you include curriculum that covers all the basics for sure - you can't skimp on reading, writing, math, science, and social studies. But you also want to look for curriculum that will encourage your child's passion! If they love art, music, or science, remember to buy those! If they ask for microbiology, or economics, or Russian History, follow their interests and get it for them.

 6 Tips to Make Learning Fun!
Avoid Tests
Find a Mentor
Don't Work Ahead
Cover Core and Capture
Follow Behind
Love Learning
It's possible for kids to learn things JUST because they love it!  Your job as parent is to pick up the mess they leave behind, and turn it into a wonderful course description of what they have learned!  I think that's the best kind of learning!



Subscribe to my YouTube channel.  You'll  get notified when I create new videos on homeschool high school topics!